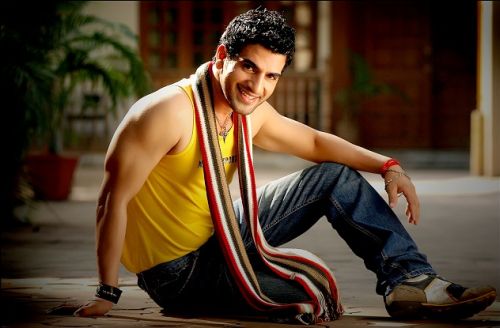 Not all get what they dream of in life, but there are a few who chase their dreams down to the fullest, and for them, the dream has nowhere to go, but succumb. Rohit Mehta a model turned actor in Bollywood, is one such person who has followed his dream to succeed, right from his village Tipra in Chopal (where he was born and brought up) to the golden city of Mumbai. His struggle to success is a dream come true and that is what he details to us in an interview, please hit the jump to read what Rohit has to tell us in his own words.
TheNewsHimachal: Why did you choose acting as a career?
Rohit Mehta: I wanted to do something different in my life. In my childhood I never thought of becoming an actor. But as I grew up the urge to become an actor developed in me. Whenever I used to watch television & Films the urge in me increased. I felt that I had all the qualities to become an actor. So why not try the Profession.
TheNewsHimachal: How has the acting industry treated you till date?
Rohit Mehta: There is a saying-that every day almost two thousand people come to Mumbai to become an actor. By this you can understand how difficult it is to become an actor and survive in Mumbai, but if you have talent and you are hardworking this industry welcomes you with open heart. As from a very young age I wanted to become an actor I have been very dedicated and focused to my career so when I came to Mumbai people appreciated my work and dedication. They welcomed me with open heart.
TheNewsHimachal: Take us through the whole journey from being a guy next door to an actor in Mumbai.
Rohit Mehta: Yes a few years ago I was a guy next door. At that time I never thought that I will come to Mumbai and pursue acting as a career. I was doing my graduation from Solan College. I had a dance group there and we used to perform in college. Everyone appreciated my dance. At that time I realised that I have something different in me. I started believing that I am meant to become an actor. But it was a big question for me , how to pursue such a career because I belong to a small village (Tipra) and had no godfather who would help me to achieve my Goal. After completing my B.com I decided to take a risk and come to Mumbai. But my decision would have been incomplete without the support of my family. Yes I am thankful to have such parents, brothers, sisters and friends who supported me in my decision whole heartedly. With everyone's blessings I finally reached Mumbai with full of dreams. To prove myself I had to really worked heard on my talent and looks. As there is lots of competition I had to work really hard. With the blessings of my parents and with the grace of God luckily I was accepted by the film industry. Hopefully with my confidence and hardwork I will be able to achieve my Goal to become a successful actor. Wish me luck my friends.
TheNewsHimachal: What has Mumbai, as a city, taught you?
Rohit Mehta: Mumbai is a city of Dreams. Mumbai is a lovely city. It welcomes everyone. Everyone comes to Mumbai with a dream. And Mumbai fulfil their dream. Mumbai teaches you to become self dependent. It boosts us up to conquer the world.
TheNewsHimachal: Himachal connection. How do you feel connected to the state and is it still your identity?
Rohit Mehta: Yes I am a Pahari (Himachali) and I love my State. It's true that I have been living in Mumbai from a long time but still my soul is always connected to himachal my birth place. Yes Himachal is my identity. And I am proud to be a Pahari.
TheNewsHimachal: Upcoming projects
Rohit Mehta: Recently I am doing two films. Saath-the bond of love. I am in a supporting Role, but it is a very interesting role. People will love my role. Second film is Shatir-the fox, which I am doing In Lead. And Commercial Ads are Nakoda Ghee, Reliance Net connect, Mahindra Alfa, Mahindra Gio(Four wheeler), Jetairways etc
TheNewsHimachal: Do you plan to take it as a full-fledged career or have something else at the back of your mind?
Rohit Mehta: I think I am born to become an Actor. So I will pursue acting as a career.
TheNewsHimachal: Have you undertaken any professional acting course?
Rohit Mehta: No I have not taken any Professional Acting course. But I have learnt a lot by doing open theatre for three years
TheNewsHimachal: Your most rememberable moment (in terms of acting)
Rohit Mehta: When I was shooting for commercial ad Mahindra Alfa (Auto). There was a scene where I had to drive an auto and compete with another auto (i.e. a race). We were shooting in an almost empty road. Two bikers were traveling through that road, as we were shooting there, the director instructed the bikers to wait at the side of the road till the scene is complete. The race started both the autos were in full speed. At the end of the scene the other auto after crossing the camera suddenly gave a break. I was just behind him as the road was narrow there was no space for my auto to find its way so I had to turn the auto little left of the road where the bikers were waiting . As I was not an expert auto driver I could not control the auto and it just went straight and hit the bikers all of a sudden and the poor people fell down. Luckily they did not get hurt but it became a big issue and the shooting was stopped. I apologized to the bikers but as they were very angry they did not listen to me and started shouting. Public came and supported them. Our team got confused how to handled the situation. The Director told me to go to the Vanity Van (Rest Room). After a long time the Director was able to solve the problem. Then we could take a breath of relief.
TheNewsHimachal: Your dream role.
Rohit Mehta: My dream Role is James Bond 007. I wish I can play the Role.
TheNewsHimachal: Actors/actresses/directors you want to work with.
Rohit Mehta: I want to work with Amir Khan & Ashwariya Ray, Director : Rohit Shetty. Yash Chopra if he directs in future.