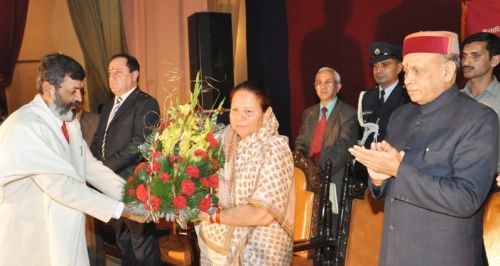 Urmila Singh, Governor and Chancellor of Himachal Pradesh University stress the need to start the Archaeology Department in the University besides introducing Tourist Guide Course to generate employment avenues for youth. Urmila Singh said that Himachal Pradesh has rich cultural heritage and added that Archaeology Department can make people aware about the glorious historical background of the State. She said that there are plenty of employment opportunities in the tourism sector and added that introducing Tourist Guide Course could help in guiding the tourists coming to the State.
Governor said that the University should prepare Vision-2020 document on priority for achieving the targets in a planned manner. She said that no national institution can make its mark on an international platform without a clear vision for the future. She said that education is important for the development of the nation and youth of every section irrespective of the social status should get an opportunity to pursue education for building a strong nation. She said that the State Government was providing free education to girl students and added that the seats have been reserved for single girl students in every department in the University.
Chief Minister in his presidential address said that the State Government is spending 1.60 lakh per student, studying at the University level every year and added that the State has made a provision of 18 percent of annual plan budget for education sector which is the highest allocation in the country. He said that the H.P. University is equipped with international level educational facilities and liberal financial resources are being provided for the same. He said that in comparison to the 4.86 percent budget allocation at national level, the State Government was spending 18 percent of the annual budget on education sector this year. Underlining the need to be self dependent, he said that autonomy could be maintained by remaining self dependent. He said that students in all the Government schools are being administered Nine Point Environment Pledge in the morning assembly. He called upon the University students to work for environment protection while studying.
Prof. Dhumal advises the students to equip themselves with proper knowledge so as to take on the challenges posed by globalization and liberalization. He asked students to stay away from any kind of drugs for a bright future. He extended felicitation to all the members and students of the University on the occasion of 42nd Foundation Day and prayed for prosperous life of all. Various publications of the University were also released on this occasion.