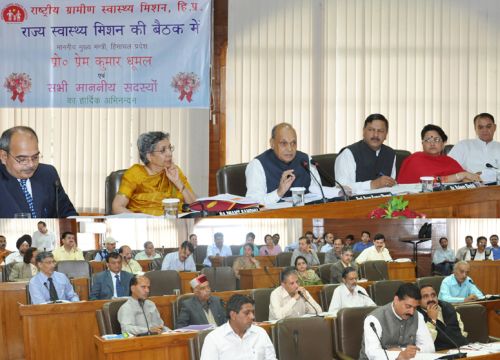 Chief Minister said that the State Government would honour the doctors who will work with dedication and devotion for providing best health care services to the people of the State. He further said that doctors who would not perform their duties earnestly and would not be present in the health institutions, stern action would be taken against them. He was presiding over the 3rd meeting of National Rural Health Mission here today. He also stressed that the tendency of referring the patients to other health institutions should only be, if it was required for want of the treatment which was not available there. He said that efforts of the State Government had been appreciated at national level and added that efforts should be continued by providing best health care services at their door steps. He also appealed the medical fraternity to serve the suffering humanity with dedication and renewed zeal.
Prof. Dhumal said that road, education, health, self employment, self reliant and Swabhiman is the sole goal of the State Government and to achieve these, policies and programmes are being decided on priority by the Government. He said that health sector is an important sector which provides an opportunity to serve the public and Government also introduced many programmes to provide better health care services to the people of the State at the door step. He said that Rs. 862 crore are being spent on health sector this year as compared to Rs. 431 crore in 2007-08 at the time of previous Congress Government which is double of the budget provision of last Congress tenure. He said that 814 doctors and 883 nurses have been appointed in last two years in the State. He said that special incentive to the doctors for serving in tribal and remote areas is given from Rs. 3000 to 9000 per month under NHRM which would likely to be increased and specialists on appointment would get from Rs. 75000 to Rs. 98000 which was under consideration of the Government. He said that construction work of 292 health institutes under NHRM was in progress from last two years in the State which included 164 Sub-Health Centres, 108 Primary Health Centre and 20 Community Health Centres.
Chief Minister said that health indicators of the State were adjudged best in the country as best health care services were being provided in the State and people were also aware to make use of these services. He said that more than 70 percent people visited government health institutions for medical treatment which was the highest in the country. He said that more than 80 percent institutional deliveries are being performed in government health institutions of the State which are also free of cost as well. He said that 38 types of medicine were being provided free of cost under Pandit Deen Dayal Nishulak Aushadhi Yojna to BPL families in all the health institutions of the State and added that grant of Rs. 8.64 crore was also being given under NHRM in last two years whereas Rs. 4.23 crore spent under Janani Suraksha Yojna. He said that 51 Primary Referral Units were also set up to provide round the clock health care services and 10 more such units to be set up this year also.
Chief Minister said that 47,822 patients are provided free Atal Swasthya Ambulance Sewa so far out of which 22 percent were pregnant women. 272 deliveries undergone in ambulance so far, he added. He said that in 2818 cluster camps, 5.70 lakh students of 15,045 schools were screened for various ailments by the doctors under Mukhyamantri Vidhayarthi Swasthaya Karyakaram in 1st phase in the State out of which 65,000 students were referred to higher health institutions. He said that 2nd phase of the programme would be started from 15th August, 2011. He also directed to formulate a special working plan to reduce shishu mrityu rate and matri mrityu rate.
Prof. Dhumal also cautioned that the executing agencies which has not initiated the construction work of infrastructural facilities so far and directed to achieve the target by 31st March, 2012. He also directed the officers to bring the patients snakebite under Atal Swasthya Ambulance Sewa and administer anti vermin vaccination.
Speaking on the occasion, Dr. Rajeev Bindal, Health Minister detailed out the activities carried out by the Health Department in last three and a half years and said that Rs. 145 crore were being spent under NHRM in the State. He said that Government has also introduced Smart Card service to provide health cover to BPL families in the State. He said that State Government would soon appoint 408 Female Health Workers so that health care services were also strengthened even at rural areas of the State. He also thanked the Chief Minister for providing liberal financial assistance to health Department and added that health care services network would be strengthened in near future also.
Chief Secretary Rajwant Sandhu stressed on anti worm medicines to the children and mothers so that incidents of anemia could be also be availed for which help of Anganwari Centres could also be sought. She said that in Gram Sabha meetings people should also be educated about health related aspects. P.C. Dhiman, Principal Secretary, Health welcomed the Chief Minister and also briefed the activities undertaken by the Department. He also assured the Chief Minister that health related services network would be strengthened in the State. Rakesh Kanwar Mission Director, NHRM also briefed about the World Health scenario on the occasion.
Sarveen Chaudhary, Social Justice and Empowerment Minister, Mahender Singh, Transport Minister, MLAs and non official members, Principal Secretaries and Heads of Departments and senior officers of the State Government also attended the meeting.