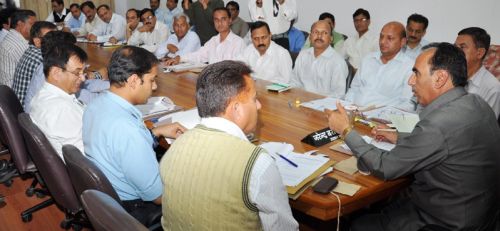 Horticulture Minister Narinder Bragta said that State government has sanctioned Rs. 143.54 Crore for the maintenance of roads damaged due to heavy rains. The amount will be utilized for the maintaining link roads so as to provide better road connectivity to growers during ensuing apple season. Minister added that critical spots have been identified at National Highway from Shimla up to Kinnaur and in Mandi and Kullu districts. JCB, Cranes and other heavy machinery would be deployed at these critical points to smoothen the heavy vehicular traffic during ensuing apple season. He said that Loader and JCB machine will be deployed in Chhaila, Gumma Bridge site, Kotkhai (PWD Rest House), Parshal (PWD Store), Khara Phatar, Praunthi, Jubbal Junction and Hatkoti and proper maintenance of roads would be ensured from these points. He directed the officials of PWD to visit the concerned areas and to maintain a vigil over critical spots.
Bragta said that Apple crop worth crores of rupees had been damaged in the state due to hailstorm recently. He said that he would request the Chief Minister to take up the matter for inclusion of hailstorm into Natural Calamity with the Central Government. He further said that about 5000 trucks would be required during coming apple season. Main Control Room would be established at Fagu near Theog in district Shimla which will start functioning from 15th July, 2011 and control rooms will also be set up in Sainj, Khara Phatar, Narkanda and Kuddu as per the requirements.
He said that in addition to private entrepreneurs, HIMFED and HPMC will also supply cartons and bundle trays at the reasonable rates to the growers. 48 market yards have already been established in the state. He directed the officers to properly maintain these yards during the season.
Bragata expressed concern over non release of money from the Central Government for Kufri by pass. He said that inspite of central government negligence, the State Government has decided to maintain the by pass with its own funds and the soling of this by pass will be completed in next 15 days.