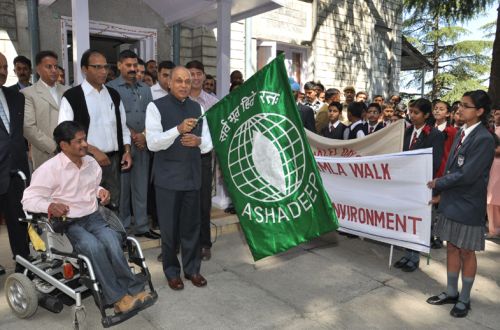 Seven hundred school students and social activists from the town came out to participate in "Walk Shimla Walk'' event organized by Ashadeep, an NGO, to spread awareness on health, energy and environment.
The walk was flagged off by Chief Minister Prem Kumar Dhumal at his residence, Oakover and it concluded at Gaeity theatre on the Mall, Shimla. The students from twelve schools raised loud slogans in support of their message on the way.
Shimla Deputy Commissioner, Onkar Sharma, Harish Sharma A.G.M S.B.I. main branch Shimla also walked along with the students to express solidarity for the cause.
Addressing the students in the premises of Oakover, chief minister, Shri Prem Kumar Dhumal lauded the effort by NGO Ashadeep to sensitize the school students for the cause of health awareness and conservation of energy and environment. He said the government is doing a lot on these fronts, and had recently been awarded for its achievements in environment conservation at the national level recently. He said, however, no government scheme can succeed unless the common men participate in it and make it a mass effort. He said the role of NGOs in spreading awareness among common masses is very important, and they should come forward for the cause.
He appealed to the students that they should try to inculcate a habit not to waste resources in routine life. He said the school students must take nine point environment pledges in the morning assemblies so that they are cautious of conservation of environment and energy as they grow.
The chief minister said it was appreciable that so many students have joined the "Walk Shimla Walk' as mere walking was an essential exercise to keep good health.
Later, at the Gaeity theatre, Shimla MLA, Suresh Bhardwaj was the chief guest and Harish Sharma A.G.M S.B.I main branch Shimla was guest of honour. The Ashadeep also organized a lecture by head of the department, Cardiology, Dr. P.C.Negi on Lifestyle and Health problems.
In his lecture, Dr. Negi told the students that the heart ailments have deep relationship with the lifestyle. He said walking is a good exercise, and children must prefer walking to remain hail and hearty.
To keep the session at Gaeity theatre lively, the Ashadeep also put some questions to the student audience regarding general knowledge. The students who gave right answers were awarded with a discounted gift coupens of Rs 100.
In his introductory remarks, Ashadeep president Sushil Tanwar said Ashadeep had organized such walk in Shimla to create awareness on diabetes six months back also. He said walk, if used as a mode of transportation, can be an answer to multiple problems like health hazards, congestions, accidents, pollution and it can save fuel and money. Tanwar said all sections of society need to come forward to support such campaigns.
The event was sponsored by State Bank of India. Good number of Ashadeep volunteers, and people associated with the NGO, also marked their presence at the Gaeity theatre. CPIM leader Tekinder Panwar also participated in the event of "Walk Shimla Walk" as a Ashadeep supporter, and said the government must supplement such efforts. Ashadeep has been awarded for its significant efforts for social good at the state, and its president, Sushil Tanwar has been the recipient of Red and White Bravery award.