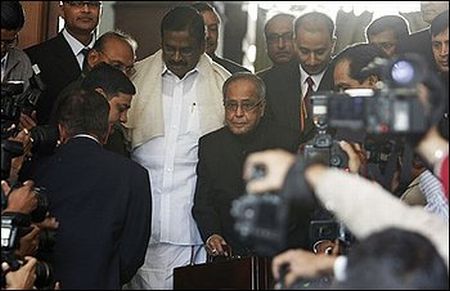 Finance Minister Pranab Mukherjee presented Union Budget 2011-12 in the parliament. On one side Bombay Chambers praised Finance Ministers attempt, but the main opposition party BJP has criticism for the budget. State Chief Minister Prof. Prem Kumar Dhumal, declare the budget anti-poor, anti-common man and anti-growth. He said that nothing has been done to give relief to the common-man from rising prices. Prof. Dhumal said that the Union Finance Minister has also discriminated with the women as there is no relief in income tax whereas for others it has been raised the maximum limit from Rs. 1.60 lac to Rs. 1.80 lac. He said that the relief to other direct tax payer was also very meagre, especially with the increasing inflation.
He said that Centre Government has discriminated against Himachal Pradesh once again by not giving assistance for any of the educational or other institutions in the State whereas other States had been benefited one way or the other. Hitting hard at the budget, he was displeased with the no provision of extension of industrial package for which he personally had been requesting the Central Government time and again. CM criticizes centre's biased approach towards Himachal as Union budget has provided a special package of Rs. 8000 crore for J&K, but forgotten Himachal Pradesh as the Pradesh is also a special category State.
Apart from the Chief Minister, MP Hamirpur Constituency Anurag Thakur also condemned the Finance minister's approach as he termed the Budget as document without a vision. He alleged that government has not taken any concrete steps to curb the inflation and to reduce the fiscal deficit.
Whereas Union Minister of Micro, Small & Medium Enterprises in UPA government and Ex- Chief Minister, Himachal Pradesh Virbhadra Singh applauds the Budget and praises Finance Minister to allocate the Rs. 2700 crore for the micro, small and medium enterprises sector and hope that it will spur growth and development.
PCC President Kaul Singh Thakur also praises Finance Minister for the Budget and termed it as a growth infusing and thinks that it'll definitely help check inflation. He praises the step of enhancement in remuneration of anganwari workers that will now almost double shows center government's concern for the grievance of these workers.