In a freewheeling conversation with Elsa Lycias Joel, Manish Tewari talks about his early days, memories of travelling, how capable and visionary governance can complement our diversities to bring about unity and prosperity, why the government must honour the role of a free press only to foster a successful and stable democracy, why the last 9 years or so look like a spectre of undeclared emergency, a few fundamental revisits to ensure the freedom of speech and expression and catalyze the role of governors so that their actions do not become the subject of controversy in addition to avoiding allegations of political partisanship, experts recognizing paper ballots as one of the most important security measures India must switch over to and why each one of us must derive strength from the diversities that surround us, be more inclusive and commit to equal opportunity for all.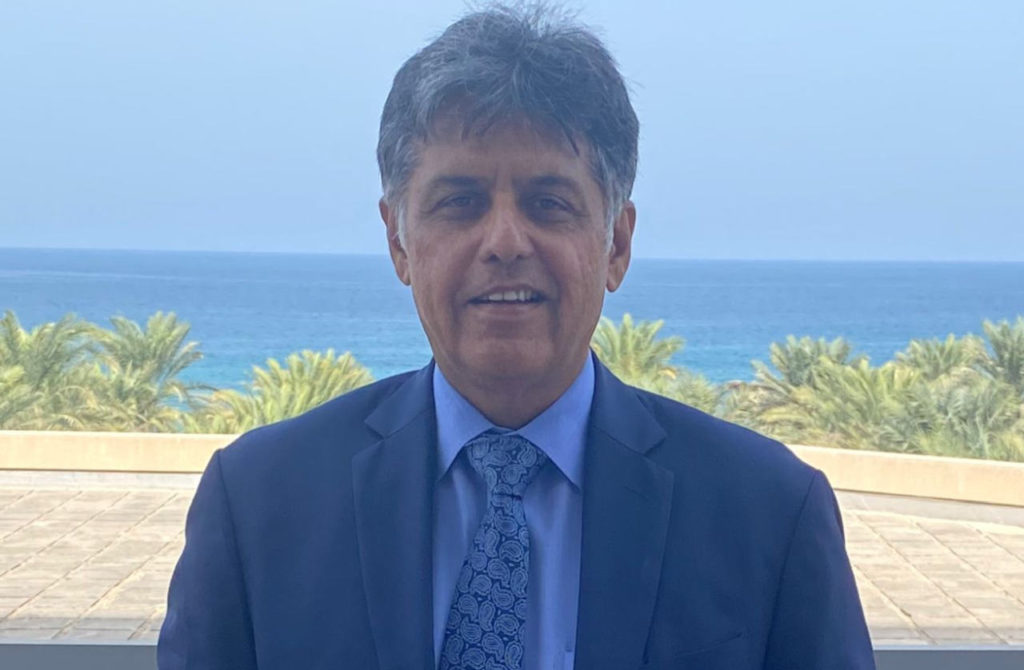 Given his credentials as a grassroots public, political activist, lawyer, politician and Union Minister, Manish's conversation weaves around defending civil liberties, the right to privacy and defending fundamental principles.
I guess you got an early understanding of national politics, patriotism, nationalism and national integrity from your father and grandparents. When did you decide to follow in their footsteps?
I think it was a combination of portentous circumstances that impelled the journey. It wasn't something which was purely out of choice. And I guess the involvement then just kept getting deeper.
If I get a chance to rewind the last 40 years of life I would do something differently such as giving my all to my profession first. 
Unfortunately in the pursuit of public service, I couldn't give my profession the amount of time it deserves or which ideally I would have liked to give to it.
With umpteen commitments, do you find time for your favourite sporting activities?
Well, it is always a tough act to juggle my various commitments. But yes, I do find the time to keep up with my sporting routine. There is not much swimming and water polo these days. I hit the gym a lot because I always enjoy sweating it out.
Which responsibility did you cherish the most-International President of NSUI or Indian Youth Congress or Union Minister for Information and Broadcasting?
The three assignments that you refer to came with their own set of challenges. I became the National President of the NSUI at the age of 22 which gave me a good learning experience. I travelled the length and breadth of the country for 5 years that helped me understand the diversity, meet different people, experience cultures and customs and the bewildering array of languages and dialects literally was a treat to the ear. The multitude of cuisines is unforgettable. The intrinsic strength of Indian civilization can be seen, heard and felt all over our country. Travelling in a political context, I got acquainted with the political strands that have shaped various regions and sub-regions. This diverse yet converging stream with an underlay of Indianness is visible everywhere if one is willing to observe without any prejudice.
Any memory that stays fresh…
Once in 1989 during the Tamil Nadu assembly elections, I and my colleague got into Trichy late into the night. Unable to find a hotel, we decided to sleep on the platform at Trichy railway station as the retiring room was full. That night, I wondered about the homeless people who remained unaccounted for and excluded, absence of practical solutions and if dignity is an important variable to consider in understanding the experience of homelessness.
Anybody who has read the Special Marriages Act in juxtaposition with the Indian Succession Act will understand that it is a complete Uniform Civil Code (UCC). While many other directive principles of state policy are overlooked, why is the present government stressing the importance of the need for another UCC? Also, doesn't this make people wonder why the BJP thinks there is a need for UCC after 9 long years?
UCC is nothing but a dog whistle, a means of trying to other the otherness of the other. Therefore, when India has a voluntary UCC in terms of the Special Marriages Act in juxtaposition with the Indian Succession Act which you pointed out, there is no need to impose uniformity. In a country like ours laws cannot be made and enforced by conveniently ignoring different faiths.
Even within the Hindu faith there is so much diversity of customs and religious usage or traditions. Thus, any attempt to bring about uniformity would be clearly walking through a dangerous minefield suffice to say that it is highly undesirable.
The state has no business transgressing into people's personal lives. Metaphorically speaking, the state has no right to trespass into people's bedrooms.
All said and done, let the BJP come up with a draft of UCC which is actually uniform in character without exempting anybody. I strongly doubt if they have even conceptualized a draft.
Sometime back, the one-step roll-out of GST created panic in business, demonetization was another ill-conceived idea, three farm laws had to be repealed for the simple reason that they aimed at dismantling the MSP system, rules under CAA are yet to be framed and NJAC was struck down as unconstitutional. Thus the government has slipped and fell multiple times. What makes them assume that they are still doing everything possible to respect the constitution and preserve the nature of Indian democracy?
This question should be better directed at the people in government. I cannot answer on their behalf. Demonetization and badly implemented GST disrupted the fundamentals of the Indian economy. And the rest of the paradigms that you mentioned, whether it was the Jammu Kashmir reorganization or the abrogation of Article 370 or the CAA or for that matter some of the other actions of the government that transgress and infringe upon civil liberties completely untie the essence and the spirit of the constitution of India.
At present the situation is exactly like what Nina Poblezova, a Muscovite, said about Stalin. Social media is full of insinuations about propaganda gestures, self-congratulatory talks, self-hypnotized propaganda din so on and so forth.  Given the erosion of Press freedom, journalists are unable to talk or write the absolute truth. Sec 150 of the proposed Bharatiya Nyaya Sanhita Bill is an example. Isn't it pathetic that, however stringent the laws may be, the enforcers aren't able to differentiate planted and real evidence, on time?
There never has been any freedom of the press in India. It was always the freedom of the owner of the press and the delegated freedom enjoyed by the manager of the press. Unfortunately one of the biggest failings of the Indian democratic experiment is the failure to create fearless media institutions which can speak truth to power. We saw the media crumbling in 1975 during the emergency. And now again, from 2014 onwards in the spectre of undeclared emergency, we see the media prostrating when expected to bend by the powers that be. Therefore, the inability to groom, empower independent journalists, create autonomous media platforms and media houses is a failing of the Indian democratic experiment. Hopefully, the infinite possibilities the social media offers or the virtual civilization the internet presents would allow for a million flowers to bloom thereby letting a million intellectual mutinies to take place.
What is your take on the eminent intellectuals being criticized for returning their awards? Anytime anybody brings up Rajdeo Ranjan, Gauri Lankesh, Kalburgi or Govind Pansare, voices of BJP try to discuss Majrooh Sultanpuri. Post 2014, the killing of progressive secular thinkers, scholars, journalists and writers by persons allegedly connected to the right wing religious outfit gives us a dark disturbing picture of what freedom of expression is going to look like if BJP continues to govern.  Either the independent media players, digital players and news publishers are raided on ridiculous charges or journalists are simply shot down. The government sends the message that it's all-powerful, accountable to none and the henchmen are on the spree knowing they enjoy impunity under the law. Are there ways to protect journalists, at least from legal judicial harassment?
Over the past nine and a half years there has been a general disdain for civil liberties and an erosion of fundamental freedoms.
Even before the first general elections that took place in 1951, the first amendment to the Indian constitution was made to Article 19 undergirding it with reasonable restrictions. Are those restrictions really reasonable? is moot. The right to freedom of speech and expression requires a fundamental revisit because if freedom of speech and expression doesn't include the right to offend then it's hollow in both its essence and substance.
Journalists should start behaving like journalists. Sadly, the large media houses in this country have redefined the power equation between themselves and the government by the extreme supplication they have demonstrated in the past nine and a half years. When media houses rewrite the rules of the game to their own disadvantage, then obviously they will be treated the way they want them to be treated.
If the mainstream media had shown spine and stood up to the transgressions and arm twisting by the government, not only would they have earned the respect of the countrymen but would have gotten other institutions to willingly stand by them to protect them and their freedom. Thus the mainstream media has no one but itself to blame. It has incentivized coercion which the government has used both creatively and skillfully. 
Of the 187 internet shut downs recorded worldwide in 2022, 84 have taken place in India. Disrupting access, especially during political instability and protests is quashing dissent. Is India's commitment to freedom of speech and expression under increasing scrutiny?
Internet shutdowns or the potential of the cyber civilization to be able to inflame tense situations is something that cannot be subject to a linear answer. Unfortunately in the troubled parts of the country social media rather than playing a salutary role more often than not plays an incendiary role. So when we juxtapose it against the imperative of maintaining law and order having to ensure calm and tranquility, internet shutdowns seem necessary though they aren't desirable. Ultimately all freedoms have to be balanced against each other. While I may have the freedom of speech and expression, I must also be conscious and aware of the fact that my freedom ends where another person's nose starts.
Raj Bhavans turning into BJP office extensions and misadventures of governors in every opposition-ruled state is everyday news…Condemn it as "Ignorantia juris non-excusat"! Temptations of post-retirement office do tell upon judicial independence, don't they?
According to me, the institution of a governor requires constitutional protection. A governor should be given a fixed term. They should only be removable by a process of impeachment. If they are given the kind of insulation that is required such as those given to other constitutional functionaries, governors would be able to function more independently and not as extensions and instrumentalities of the central government. Therefore the entire structure of the role of a governor including the process of appointment requires a fundamental revisit.
What does 2024 look like? Can we hope that the General Elections will not be dominated by the three Ms- money, machine and media? The integrity of the EVMs was challenged way back in 1999 when they were introduced. In 2009, we heard loud voices that challenged the transparency of EVMs. While tech-friendly, major developed countries have switched over to paper ballots, isn't it time our government introspected a bit about security, accuracy, reliability and verifiability of electronic elections?
I look forward to 2024 with hope. If you expect an answer in the political context, then I am not a psephologist. We must understand that democracy is too precious to be left to technology. That EVMs can be manipulated is not my opinion alone. Be it Prof Vora who raised the issue way back in 2017 or Mr Hari K Prasad, a voting system security researcher who was arrested in 2010 after demonstrating how an EVM could be manipulated or the citizens' commission on elections, all of them are convinced about the fallibility or vulnerability of the machines. We have enough reasons to go back to paper ballots. An EVM is a machine which can be hacked, rigged, interdicted and played around with. More so, the paternalistic obsession of the Election Commission of India with the EVMs bemuses me. Like you mentioned, many developed countries that had once adopted EVMs have gone back to paper ballots to avoid apprehensions about them being interfered with. Hence the 2024 elections must be held on paper ballots.
Is there something that you think citizens should be doing to save India from further disintegration?
India is not disintegrating. It is a misnomer to suggest that India is disintegrating. Yes, there are strains and stresses. All of us must work in harmony and in tandem, especially the government to ensure that the intrinsic unity amidst diversity, the civilizational strength of India is augmented or strengthened and not stratified.
Disclaimer: This article, authored by freelancer Elsa Lycias Joel, has been published with the freelancer's consent. All opinions, claims, and expert insights presented in the article are solely the responsibility of the freelancer. TheNewsHimachal does not endorse or take responsibility for the content, opinions, or claims made in this article. Any concerns or inquiries regarding the article should be directed to the author, Elsa Lycias Joel, who holds the exclusive rights and obligations for the content.