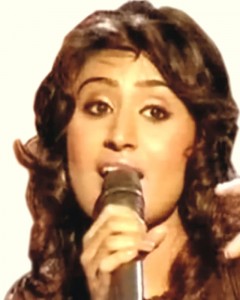 Having started humming at a very young age, Arshdeep wants to become a big name in the singing field and hopes to carve a niche for herself throw her hard work and talent.
Q. :  At what age did you start singing?
A :    I started singing at a tender age of  3 years old  . My family members were inclined towards music ever since hence the atmosphere at home was always very musical. My father used to pen down Punjabi folk songs.
Q: So, you have been participating actively in singing competitions as well?
A: Yes, a handful to be honest. I participated in many competitions at school and college level which further inspired me to participate in a Punjabi singing competition "Awaj Punjab Di". I managed to grab the runner up position. After that I managed to climb up till the semifinalist position in the famous Sa Re Ga Ma Pa on Zee Tv. I also auditioned for 'Voice of India' on star plus, in which I was one of the finalist.
Q:   Talking about Reality shows; tell me how real are they according to you?
A:   Well at least I learnt a lot from every show I participated in. They are true keeping in mind the judgment done based on how one performs. But when it comes to voting I can't say much about it. How transparent the voting system is no one knows.  Moreover, I somehow am against this whole voting gimmick. How can someone who doesn't know the ABC of singing decide who goes up to the next and who leaves the show. The selection should solely be in the hands of experts.
Q:  Having sung songs of different genres, do you have a particular favourite that you hold close to your heart?
A:   I hold ghazals closest to my heart, as they carry a lot of emotions. Besides this Sufi music and our very own Punjabi folk as it keeps me rooted to my religion.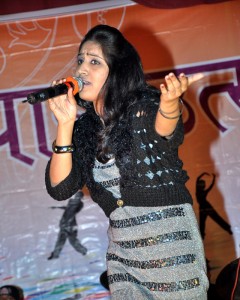 Q: That means you want to do Punjabi projects as well?
A:    Of course. In fact, I have just recorded a song with Jasbir Jassi for his upcoming Punjabi movie "Khushiyan" and am considering a few more projects.
Q: Any favourite singers?
A: My all time favourites are Richa Sharma and Sunidhi Chauhan. I also like Jaspinder Narula for her perfection. But one person I idolize when it comes to gazals is Ghulam Ali ji.
Q:   Would you like to throw some light on your future plans?
A:   Right now I am completing my studies. After that I'll move to Mumbai and try my luck there.
Q:   If not a singer what would have you been?
A:  I would have chosen to be a dancer or maybe an actress.