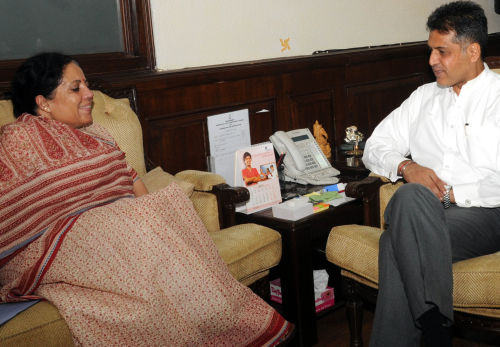 Congress leader and Member of Parliament Pratibha Singh called on Manish Tewari, Union Minister of State for Information and Broadcasting at Shastri Bhawan, New Delhi and requested him to organise 45th International Film Festival of India in Himachal Pradesh.
She requested him to rotate the venue of the prestigious International level event so as the film lovers of this region could also communicate face to face with film professionals and understand the emerging technologies and the challenges of New Media.
She offered all help and assistance to organise such International level event in the State and told that Shimla, Dharamshala and Manali have proper infrastructure and facilities to host such events.
Pratibha Singh also requested for opening of satellite campus of Satyajit Ray Film and Television Institute in the State for cinematic studies and offered free land and other modern infrastructural facilities for setting up satellite campus. She told that demand of professionals in the field of art and craft of film making, direction, cinematography, editing, sound recording, designing etc has increased manifold in recent years with the increase of production of regional films/documentaries due to latest technology and told that prestigious institute would further motivate dedicated professionals to understand the complex and competitive world of film making and enrich the quality of cinematic learning.
Pratibha Singh requested the Union Minister to put the Doordarshan Kendra Shimla on DTH so as the Himachali people living in metropolitan cities could be emotionally connected with their mother land and the new generations could be connected to their roots through Doordarshan. She said that it would mainly benefit around 10 lakh Himachalis settled in metropolitan cities and the large number of youth presently working in army, paramilitary and multinational companies all over the country. She said that it would also boost the tourism sector and promote rich cultural heritage of the State.
Pratibha Singh urged for sanctioning 20,000 DTH and colour television sets for the tribal, backward and difficult areas of the State so as the people living in these areas could be connected with mainstream media and also remain informed about various social and economic development programmes launched by the Government.