In a disturbing development, a primary school in the Chamba district of Himachal Pradesh has come under scrutiny as students attending the school demonstrate a shocking lack of awareness about their own country. The gravity of the situation came to light when Dr Janak Raj, the MLA of the Pangi-Bharmour Assembly Constituency, paid an unannounced visit to inspect the Primary School Karyas.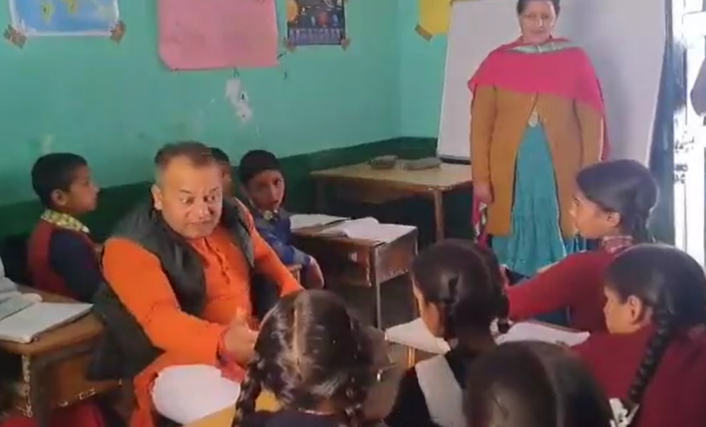 Startlingly, the children in this tribal area of Pangi were unable to even provide the name of their own country when asked by MLA Janak Raj during his inspection. When questioned about their nation, the students exchanged bewildered glances and remained silent, leaving the MLA deeply concerned.
Expressing his distress over the matter, MLA Dr Janak Raj promptly addressed the teachers and stressed the critical importance of guiding the students. The MLA emphasized that Pangi, being a remote tribal area, is among the most isolated regions within the district.
The alarming state of education in this primary school raises serious concerns about the future prospects of these children. MLA Dr Janak Raj highlighted the urgent need to instil a sense of national identity and awareness in the students. He advised the children to incorporate daily news consumption through television channels, both in the morning and evening, as well as stay updated through daily radio broadcasts. These practices, he believes, will prove highly beneficial to the students' future.
MLA Janak Raj further underlined the importance of the teachers' commitment to the education of their students, urging them to take this matter seriously. It is crucial for teachers to play an active role in equipping these young minds with the necessary knowledge and understanding to navigate the challenges that lie ahead.
This distressing situation serves as a stark reminder of the pressing need for educational reforms in Himachal Pradesh, particularly in remote and tribal areas. The lack of fundamental knowledge among students about their own country serves as a clear indication of the gaps that exist within the education system. Immediate action is necessary on the part of the state government to ensure that every child receives a quality education, enabling them to build a brighter future for themselves and contribute to the progress of the nation.
The incident at the Primary School Karyas serves as a wake-up call for educational authorities, policymakers, and the entire community. It is imperative that concerted efforts are made to address the shortcomings in the education system and provide students with the necessary tools for their holistic development.
Ensuring that children in Himachal Pradesh are well-informed, educated, and aware of their own country is not only a matter of academic importance but also a crucial step towards shaping knowledgeable and responsible citizens for a prosperous future. The state government must take immediate and decisive action to rectify this situation and provide a strong educational foundation for the children of Himachal Pradesh.