Shimla: Himachal Pradesh Chief Minister Sukhvinder Singh on Tuesday presented the first and final batch of the Supplementary Demands for grants for 2022-23 in the assembly.
The Supplementary Demands for Grant aggregate to ₹13,141.07 crore. Out of which, ₹ 11707. 68 crore is under state schemes and ₹ 1433.39 crore under Centrally Sponsored Schemes.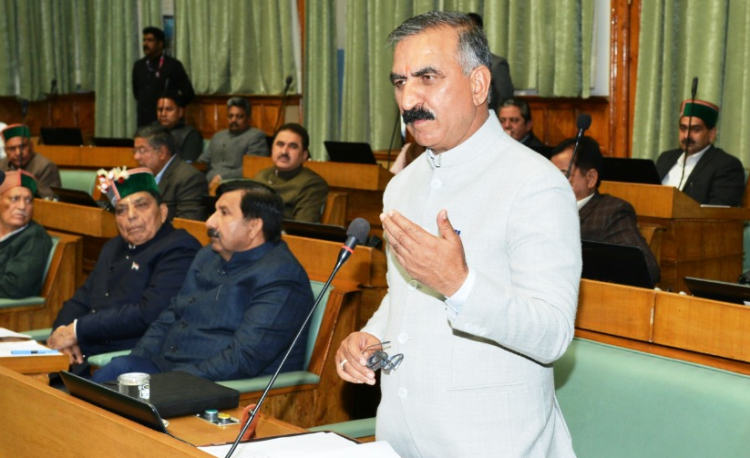 The Chief Minister, in a report presented in the state assembly, said that major expenditure proposed under the State Schemes includes ₹ 6,004.63 crore for repayment of ways & means Advance/Overdraft, ₹ 1260.65 crore for pensions and other retirement benefits, ₹551.48 crore for Power subsidy, ₹ 444.03 crore for construction of hospitals, purchase of medical equipment and HIMCARE, ₹ 435.08 crore for construction of senior secondary schools and colleges buildings, payment of salary, ₹289.38 crore for assistance to Himachal Road Transport Corporation.
₹284.79 crore have been proposed for Mukhya Mantri Sukh Aashray Kosh, construction of Sukh Aashray Bhawan and Social Security Pension, ₹279.06 crore for Water Supply and Sanitation, ₹ 226.51 crore for relief on account Natural Calamity, ₹209.33 crore for Mukhya Mantri Swavlamban Yojna, Pradhan Mantri Gatishakti Yojna, Optical Cable Fibre Network and digital expansion or Government Departments, ₹ 208.42 crore for Crop Insurance, Crop Diversification Project, pending liabilities or MIS and Horticulture Development project, ₹156.91 crore for grants to Rural Local Bodies, salary of staff or Zila Parishad and Grants under 15th Finance Commission.
In Supplementary Demands for grants for 2022-23, ₹154.71 crore are for Roads and Bridges, ₹ 128.71 crore for rail projects, ₹ 108.70 crore for Skill Development Project, ₹ 106.08 crore for construction and maintenance of government buildings, Rest Houses, Circuit Houses and Hostels etc., ₹ 67.73 crore for Deen Dayal Antyoday Yojna-National Urban Livelihood Mission, Smart City Mission, AMRUT, Swachh Bharat Mission and Shimla Jal Prabandhan Nigam, ₹55.48 crore for Administration of Justice, ₹753.93 crore for Food Subsidy, Paddy Procurement and Himachal Grihani Suvidha Yojna and ₹43.33 crore for Mahatma Gandhi National Rural Employment Guarantee Scheme (MGNREGS).
The CM said under Centrally Sponsored Schemes, Supplementary demand is proposed for funding ongoing and new schemes and prominent among these are: ₹400 crore for Disaster Management received under NDRF, ₹221.96 crore for Mahatma Gandhi National Rural Employment Guarantee Scheme (MGNREGS), ₹141.78 crore for Smart City Mission, ₹140.91 crore for Covid 19 Emergency Response and Health System Preparedness Package, ₹95.60 crore for Central Road Fund, ₹95.43 crore for STARS Project, ₹47 crore for Pradhan Mantri Gramin Sadak Yojna, ₹ 43.08 crore for Rashtriya Gram Swaraj Abhiyan and ₹34.47 crore for Swachchh Bharat Mission (Gramin).