Fiscal deficit down to 3.4 percent; average inflation 4.6 percent, Banks recover Rs 3 Lakh Crores in outstanding loans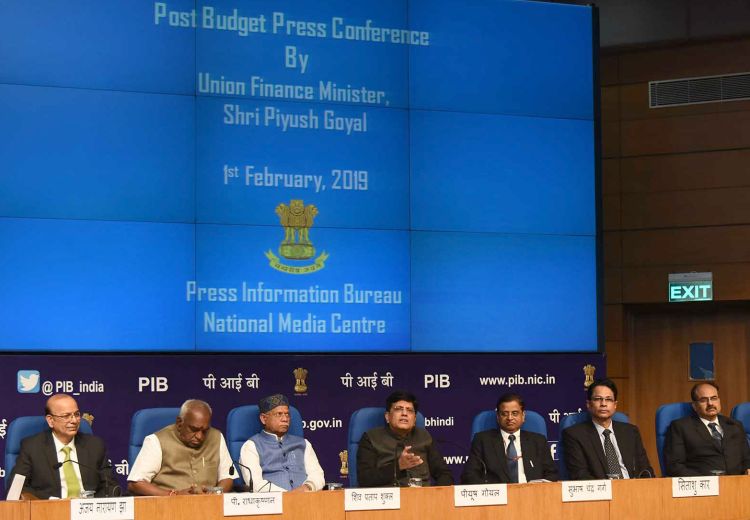 New Delhi: India is among fastest growing economy and has now become 6th largest economy in the world with high growth. Presenting the Interim Budget for the year 2019-20 in Parliament today, the Union Minister Piyush Goyal said "India is the fastest growing major economy in the world" with an average GDP growth of 7.3% per annum, the highest ever achieved by any Government since economic reforms began in 1991.
Goyal said that a clean, decisive and stable Government reversed the policy paralysis, laid foundation for sustainable growth and restored the image of the country. The Union Minister stated that a New India would celebrate its 75th Independence year in 2022 when every family would have a house with access to water, electricity and toilets; farmers income would have doubled; and the country would be free from terrorism, communalism, corruption and nepotism
Fiscal Deficit and Inflation down
Outlining the broad picture of the State of the Economy,Goyal said the fiscal deficit has been brought down to 3.4% in 2018-19 Revised Estimates from the high of 5.8% in 2011-12 and 4.9 % in 2012-13. Average inflation has been brought down to 4.6% from the high of 10.1% during 2000-2014. In December 2018 inflation was 2.19% only. The Finance Minister said, the Current Account Deficit (CAD) is likely to be only 2.5% of GDP this year, against a high of 5.6% six years ago.
The Finance Minister revealed that the country has attracted $239 billion as Foreign Direct Investment (FDI) during the last five years. He cited Goods and Services Tax (GST) as a path breaking next generation structural tax reform undertaken by the Government.
Recovery of Bank Loans
Highlighting the Banking Reforms, Goyal said the Insolvency and Bankruptcy Code has institutionalised a resolution-friendly mechanism and nearly Rs. 3 lakh crores has been recovered by Banks and creditors. He said high stressed non-performing assets (NPAs) amounted to Rs. 5.4 lakh crore in 2014. Since 2015, numerous Asset Quality Reviews and inspections were carried out, and the 4Rs approach of recognition, resolution, re-capitalisation and reforms has been followed. Highlighting the restoration of the health of the Public Sector Banks, the Finance Minister said that recapitalisation has been done with an investment of Rs. 2.6 lakh crore.
Anti-black money measures brought undisclosed income of about Rs 1.3 Lakh Crore to tax
Making big claim on black money, Union Minister claimed that the anti-black money measures taken by the Government during the last four and half years in the form of Black Money Law, the Fugitive Criminal Offenders Act, and Demonetisation, have brought undisclosed income of about Rs 1,30,000 crore to tax. These measures have also led to seizure and attachment of assets worth approximately Rs 50,000 crore, and compelled holders of large cash currency to disclose their source of earnings.
During this period, Benami assets worth Rs 6,900 crore and foreign assets worth Rs 1,600 crore have been attached. As many as 3,38,000 shell companies have been detected and de-registered, and their directors disqualified, Piyush Goel further stated.
The Minister said that there is 18% growth in direct tax collection in 2017-18 and increase in tax base by as many as 1.06 crore people filing income tax returns for the first time in FY 2017-18 is mainly on account of demonetization.