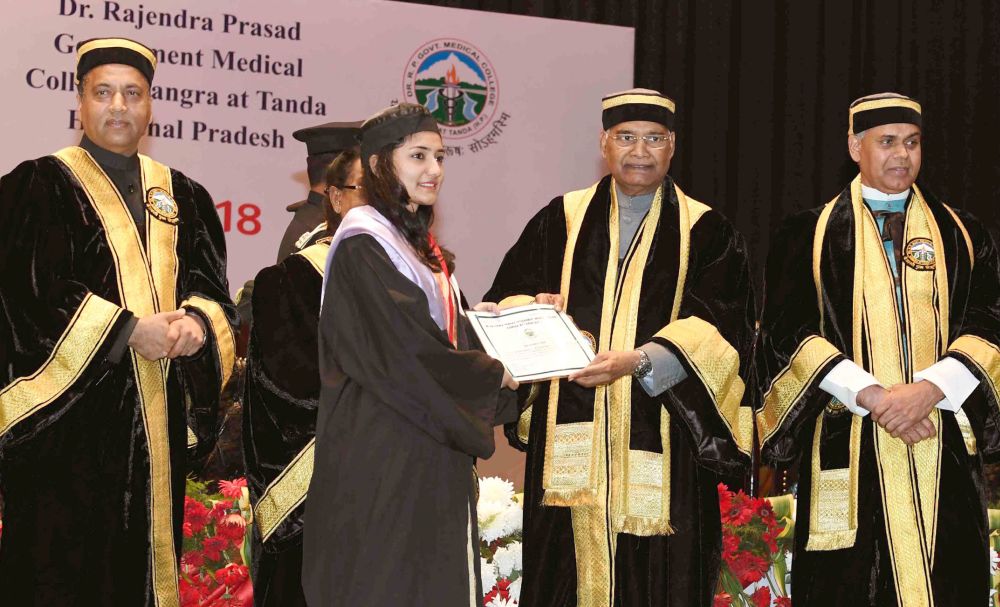 The President Ram Nath Kovind is on a two-day visit to Himachal Pradesh starting from today. President Kovind today attended the convocation ceremony at Dr. Rajendra Prasad Government Medical College in Kangra district. He awarded eleven Gold Medals to eight meritorious students of the Medical College.
Speaking on the occasion, the President said there is a need for large number of good doctors and medical colleges for delivery of effective health services. Recently, the Indian Medical Council (Amendment) Ordinance 2018 has been promulgated to promote good medical institutes and to tackle the challenges of medical education. This will encourage the establishment, expansion and modernization of medical colleges and institutions.
The President said that Dr. Rajendra Prasad Government Medical College Kangra from its meagre beginning has grown to a prestigious medical institution of the region. He also congratulated the medal recipients and wished for their prosperous and bright future.
The Governor Acharya Devvrat congratulated medal winning students. He said the young doctors passing out from this institution should serve the humanity with dedication and commitment.
Governor advised students to serve society in such a way that the Institution also feels proud of its product. He said that the younger generation should lead harmonious and simple life and doctors should also motivate the people, especially the younger generations to adopt simple and tension free life. He said that it was heartening to know that that out of eight recipients of gold medal, seven were girls.
The Chief Minister Jai Ram Thakur said that that presently the State has six medical colleges in Government sector alone and in addition this Union Government has sanctioned AIIMS for the State which would be opened at Kothipura in Bilaspur district. He said that with all these prestigious institutions, the State would be producing six hundred doctors every year and all the health institutions would have best doctors to serve the people of the State.
Dr. Rajendra Prasad Government Medical College Kangra was established in 1997 and its first batch started in 1998.