Shimla: Health Minister Vipin Parmar launched MAA (Mothers' Absolute Affection) programme in the state to promote breastfeeding practice for newborn children and infants during a function organised today by the health department.
Speaking on the occasion, the Minister said the main motive of "MAA" programme was to promote breastfeeding, provide knowledge to mother, husband and family members and ensuring for an enabling environment to mother and newborn as breastfeeding was essential to improving child survival. He said breastfeeding was the most important and effective intervention that could be given to a child by mother. It also helps to reduce the incidence of infant mortality and early childhood mortality.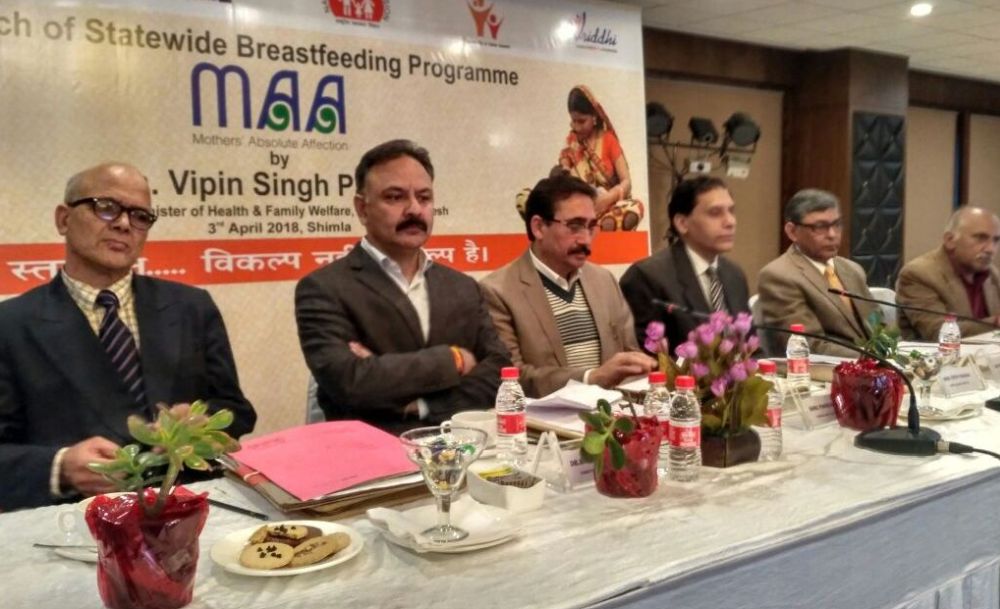 Parmar said IMR was 25 in Himachal Pradesh against the National average of 34. He said the requirement of nutrition to the child till first two years of life would be shared with community through MAA programme. He urged the Chief Medical Officers to monitor its implementation and impact to achieve goal of healthy children in the state.
He said the main components of the MAA programme were community awareness generation, strengthening inter-personal communication through ASHA, skilled support for breastfeeding at delivery points in public health facilities and work places.
Principal Secretary, Health Prabodh Saxena insisted that the state government intends to reach out to every facility, every newborn and every mother through this programme. With only 50 percent of institutional deliveries getting the benefit of early initiation of breast feeding within one hour of birth, only 60 percent infants were exclusively breastfed for six months in Himachal Pradesh. On the other hand, only 40 percent infants were started on complementary feeding after six months. He said this Program will ensure that 100 percent target beneficiaries were benefitted through motivated and trained health workers. MAA program will focus on training of every health care provider on infant and young child nutrition, he added.
State Program Officer Dr Mangla Sood highlighted the operational part of MAA program and how this will be implemented in Himachal Pradesh.
Special Secretary (Health)-cum-Mission Director, National Health Mission Pankaj Rai, State Program officers, Chief Medical Officers, Principals from all Medical Colleges were present on this occasion.