Nauni/Solan: Himachal Pradesh produces substantial amount of fruits. Nestled in the Himalaya, the state is known as a fruits bowl, but due to lack of essential knowledge and changing pattern of weather costing the fruits growers dearly. Pollination is one such factor. Fruit crops require an insect pollinator to help insure pollination. Having enough pollinators during bloom is essential to produce a sustainable crop as proper pollination increases fruit size at yield, hastens maturity and produces a more symmetrical fruit shape.
Bee is one of a major pollinator, but with increasing usages of many modern communication tools such as mobile phone frequency impacting bees adversely and even causing its sudden decreasing population.
Dr Anju Khanna of Dr YS Parmar University of Horticulture and Forestry deliberated that the lack of managed pollination especially honey bee colonies is taking a toll on the agricultural output of the state and resulting in poor fruit set and low productivity, and eventually led to the loss of income for farmers.
To ensure proper knowledge to fruit growers, Nauni University organized a demonstration camp on the 'Role of Managed Pollination in Apple Orchards'. 52 fruit growers from Shimla, Chamba, Sirmour and Mandi district of the state attended the camp – held under the World Bank funded Himachal Pradesh Horticulture Development Project.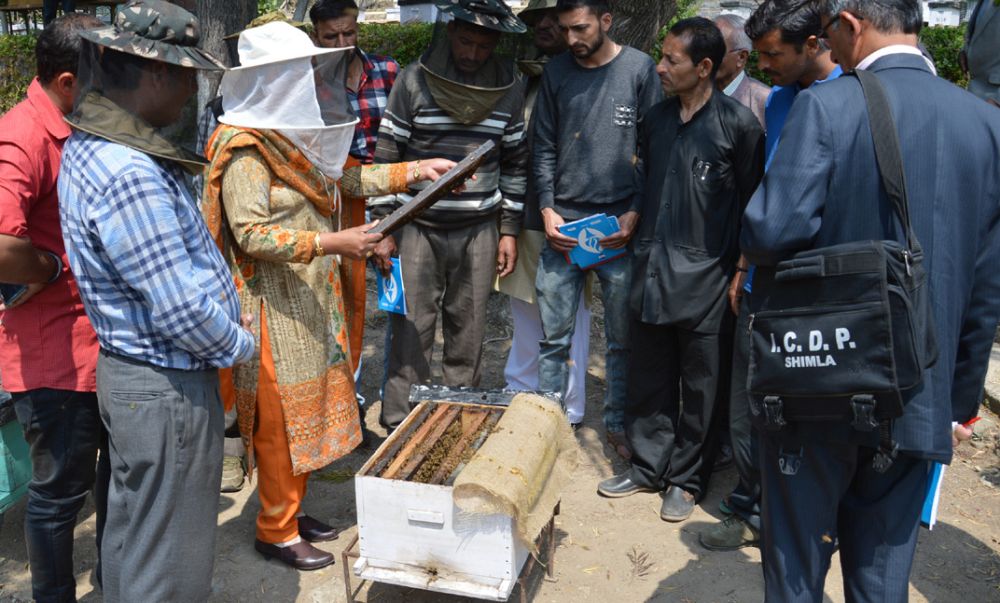 Dr Anju Khanna stressed for using hive bees for pollination. Dr. Khanna recommended three strong honeybee colonies per hectare for orchards and place honeybee colonies in apple orchard at 5-10 per cent bloom. The colonies should be 6-8 bee frames strength with 3- 4 frames of brood having prolific queen, and honeybee colonies should be conditioned to the target crop by feeding sugar syrup with apple flowers soaked overnight.
Dr Khanna also advised fruit growers asked to place honeybee colonies in sunny, sheltered locations. Entomologist recommended not to shift colonies from one orchard to another if the distance is less than 5 km, and avoid pesticides spray while flowering.
The University organized practical sessions on the preparation of honey bee colony for pollination and the use of pollen dispenser for ensuring proper pollination in apple.
Fruit growers were also given live demonstration at the university apiary where topics like transportation of bee colonies and bee management were discussed.
They also learned how to protect the bees in case there was a need to use spray on the trees/fields. Field visit to the high-density plantations of newly introduced apple varieties under the HPHDP project was also undertaken where the forager behaviour of the bees was explained to the farmers.
The fruit growers were also erudite about the identification of important insect pollinators and the strategies to conserve them.