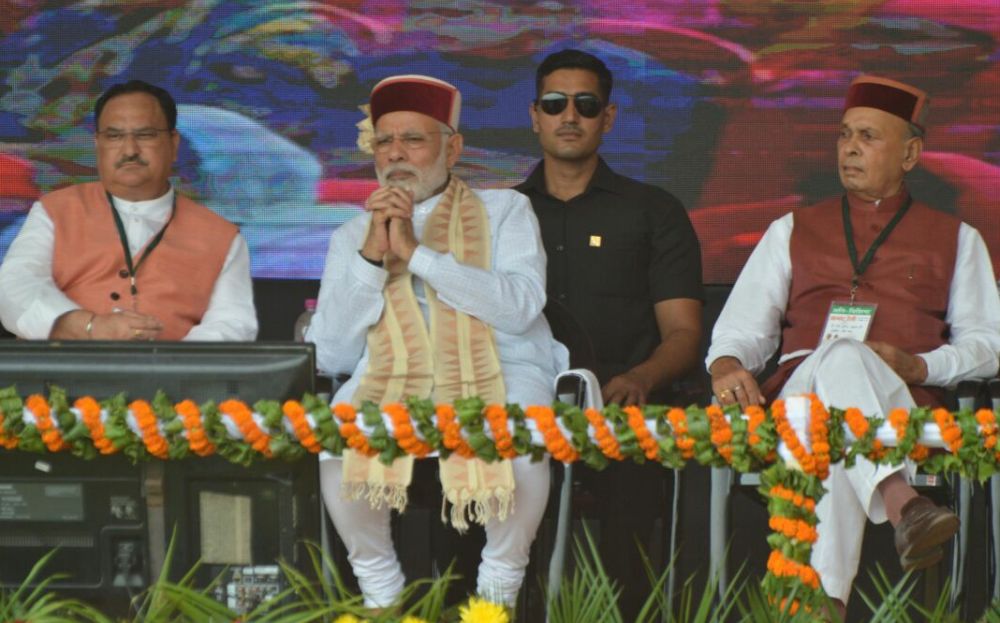 Bilaspur: Prime Minister Narendra Modi started the BJP's assembly election campaign in Himachal Pradesh today with a rally in Bilaspur.
Prime Minister Narendra Modi, in his address, said that the state government is on bail and asked people of the state to throw out the Congress government. Taking jibe at the Himachal Pradesh Chief Minister Virbhadra Singh, Modi said that Singh's family is facing corruption allegations and is on bail.
He said the Congress leadership was wary of taking action against the Chief Minister as it was also sailing in the same boat. The Himachal BJP was fully geared up to take up the reins of power and fulfil the dreams of the people to provide a clean and efficient government, Modi further added.
The Prime Minister was addressing the "Aabhar rally" of the BJP after laying the foundation for an All India Institute of Medical Sciences (AIIMS), IIIT and dedicating the Steel Processing Plant at Kandrori in Kangra district.
Modi claimed of giving clean government in the centre. He said that since attaining power in 2014, no case of corruption has surfaced so far, while in UPA regime newspapers were full of reports about scams.
The NDA government believes in development and currently 13 major projects involving an investment of ₹15,000 crore are under implementation, which would accelerate economic activity and generate employment, he said.
The state is scheduled to go into poll in November, and election department can press model code of conduct anytime in the state. Meanwhile the state election department has received 65016 applications for making new photo identity cards during the special campaign organized between 16 to 30 September in the state.
Out of these, 52,155 electors registered themselves by filling up farm-6 and most of them include electors in the age group of 18-19 years.
Additional Chief Electoral Officer D.K Rattan said the department received 6251 applications for removal of names from the voter lists, 5703 for rectification and 907 for transfer of names from the assembly constituencies. He said there were 2365 Absent, Shifted and Dead (ASD) voters and their list had been prepared separately however, there names had not been removed from the electors list.