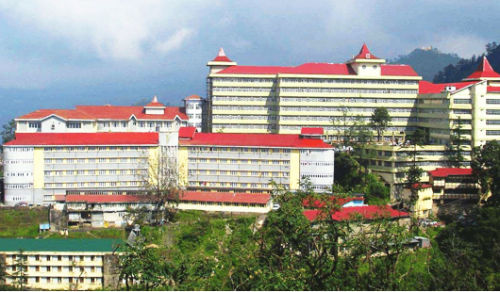 Chief Minister Virbhadra Singh said at New Delhi today that on his request the Union Government had approved the inclusion of Indira Gandhi Medical College (IGMC), Shimla under Pradhan Mantri Swasthya Suraksha Yojna (PMSSY). He said that under the scheme Rs. 150 crore would be provided for upgradation of IGMC, Shimla.
Chief Minister thanked the UPA Chairperson Sonia Gandhi, Prime Minister Dr. Manmohan Singh and Union Health Minister, Ghulam Nabi Azad for including IGMC under PMSSY. The important demand of the State had been pending with Union Government for about last two months and its acceptance would help to improve the medical and other amenities at IGMC.
Virbhadra Singh said that this decision would also facilitate quick implementation of recent decision of the State Government to start second campus of IGMC at village Gharog near Shimla. He said more than five thousand patients and attendants' daily visit IGMC, which was over-crowded and shifting out some wings would help in decongestion. It would also help develop medical facilities at the present location particularly super specialities like cancer care and cardiac care.
Virbhadra Singh said that around Rs. 100 crore new hundred bedded hospital comprising both dental and nursing colleges would be constructed at Gharog to cater to the need of patients of nearby areas adding that additional accommodation like hostels and residential accommodation for Medical and Paramedical staff would also be constructed there.
Chief Minister said that a new multi-storeyed OPD block with parking facilities for four hundred vehicles, dedicated to IGMC hospital only, would be constructed right from Cart Road till Lakkar Bazar road. Besides, OPD, Trauma Centre, Causality, minor Operation Theatre and rooms for Medical Specialists would also be constructed on which about Rs. 50 crores would be spent. Apart from staircases, this block would also be provided with lift facility.