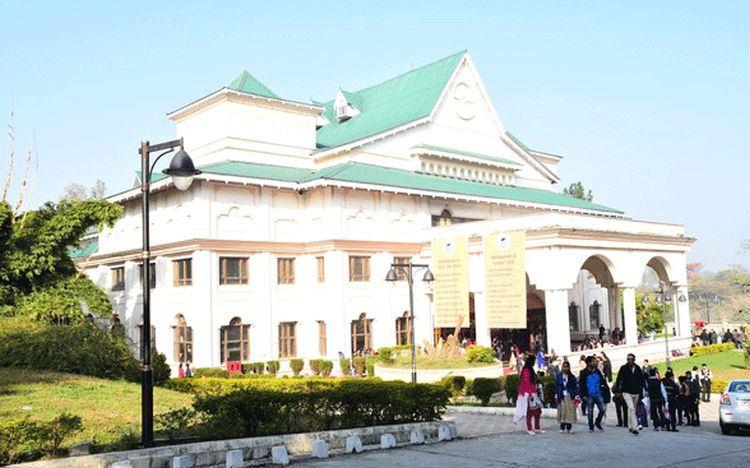 New Delhi: The Central University of Himachal Pradesh (CHUP) campus issue raised in the parliament today as Hamirpur parliamentarian Anurag Thakur blamed the Virbhadra Singh led state government for playing politics over its permanent campus.
Hamirpur MP raised the issue in the zero hour at Lok Sabha today. He apprised the Speaker, the headquarters of CHUP had been fixed at Dehra since 2010. He said
"the state government has been desperately trying to play politics and delay the process. The students of the campus are still living in temporary location and face many difficulties"
Thakur informed the parliament that in April 2010 the Central University of Himachal Pradesh was notified to have 70 percent campus and headquarters in Dehra and 30 percent in Dharmshala. The land clearance were pending at central ministry of forests, however, when the government changed in December 2012, the Virbhadra government went and tried to reverse the share of allocation of lands for political reasons, Anurag Thakur further informed the house.
BJP MP claimed that Dehra site has also been given the necessary forest clearances while Dharamshala site where Congress wanted to set up the University campus has failed to get forest department approval citing severe consequences to the environment.
Requesting immediate intervention by HRD ministry, Anurag Thakur requested the ministry to take quick action so that the dream of a central university in Himachal would be fulfilled at the soonest.
The Central University of Himachal Pradesh was founded in 2009 after the Union Government's policy to establish Central Universities in each of the states that do not already have a central university.
The Central University of Himachal Pradesh is operating from temporary academic block at Shahpur. The CHUP had been allotted to Dehra town but was shifted to Shahpur for temporary classes although enough space was provided at Dehra and later divided into two locations.
The issue of Central University has time and again intensified the politics of Himachal Pradesh. While Congress wants to open campus at Dharamshala, opposition BJP pitching for setting up campus at the Dehra.
Chief Minister Virbhadra Singh has many time announced to set up campus at Dharamshala and selected land the land between Dharamshala and Palampur, while Leader of Opposition Prem Kumar Dhumal said that it was Central team which has selected the Dehra site.
The tussle over Dehra and Dharamshala site has already delayed in setting up the permanent campus in Himachal Pradesh.