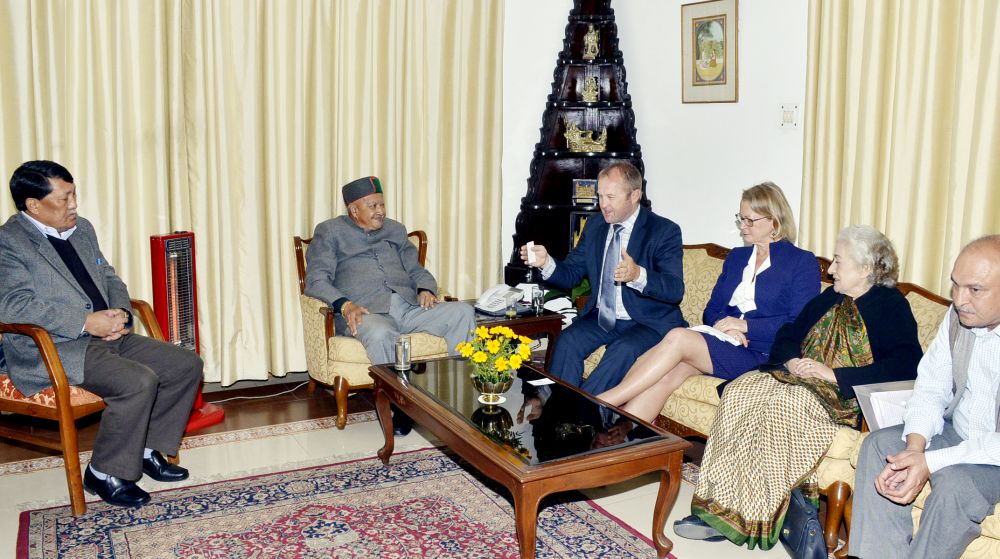 The Himachal Pradesh Government is partnering with the New Zealand Government for World Bank funded horticulture development project aiming to support the growth of productivity for apple growers of the state.
Himachal Pradesh Chief Minister Virbhadra Sigh, in a meeting with the delegation of Pipfruit, New Zealand, here today to discuss the progress on the project, said the state government would take the advantage of expertise of New Zealand in developing various sectors like horticulture, agriculture and dairy etc., and Memorandum of Understanding (MoU) would be signed with the New Zealand government for implementation of the project early in the next year.
The Chief Minister said New Zealand was one of the highest apples producing country where per hectare apple production was 57 tonnes. The State would be benefited with their knowledge in increasing fruits production, especially apple and stone fruits.
Virbhadra Singh said the emphasis of the government would on diversification of stone fruits and rejuvenation of old apple orchards in which the knowledge of New Zealand would play an important role.
Additional Chief Secretary, Horticulture, Tarun Shridhar said the priority of the state government would be on water management for irrigation which was one of the most important aspect for modern horticulture. He said the detailed project report for implementing the horticulture development project in association with the New Zealand government was almost ready and the State had already started importing the root-stock.
Mike Petersan, Special Agricultural Envoy, said the New Zealand government was looking for partnership with Himachal Pradesh through trade agreements and negotiations. He said New Zealand had good research institutes and help would be extended to the State apple rejuvenation project.
He also invited the Chief Minister, Horticulture Minister and officers of the state government to New Zealand and added that a meeting would be organized there with the progressive farmers.
Horticulture Minister Vidya Stokes, Additional Chief Secretary V.C Pharka, Director, Information & Public Relations Dr. M.P Sood, Director, Horticulture D.P Bhangalia and other senior officers of the state government were also present in the meeting.