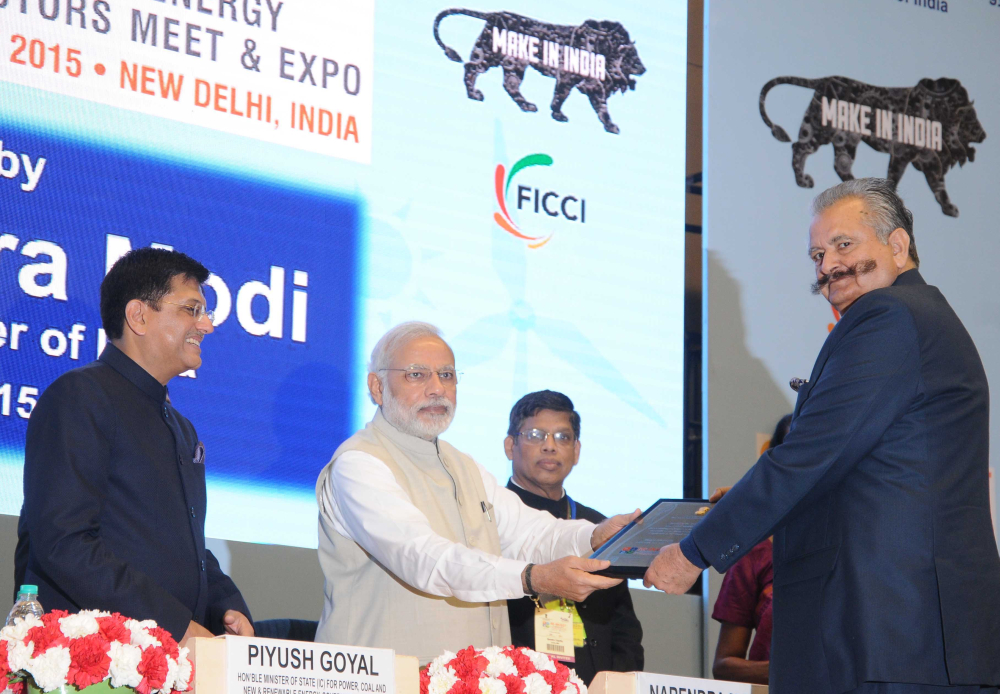 For outstanding contribution in the field of renewable energy, Himachal Pradesh has been awarded with National Award. In the RE-INVEST 2015, India's first Renewable Energy Global Investor's Meet and Expo in New Delhi today, MPP & Power Minister Sujan Singh Pathania received award from Prime Minister Narendera Modi.
While speaking at the Expo, Pathania said that Himachal Pradesh was implementing various programmes to popularize the renewable energy resources which include small hydroelectric projects, solar water heaters, and photo voltaic lights etc. which were being executed through government nodal agency-HIMURJA. The government was giving special emphasis on popularizing these resources in the tribal and far-flung areas of the state, he added.
Detailing about the opportunities made available for the investors in the state, he said so far 478 small hydroelectric projects had been allotted to the entrepreneurs and 150 more such projects would be allotted in the near future. He said that to facilitate the investors, the state government had made a provision of single window system for granting project clearances with-in ninety days. He urged the entrepreneurs to invest in the state as the state government was providing various facilities and incentives for setting up of industries which were one of the best in the country.
Pathania said the state was also giving priority for setting up of solar power plants and in the recent past 200 kilowatt solar power plant had been successfully established at Baru Sahib University in Sirmaur district. The solar power plants had been also established in the offices of all deputy commissioners which was a unique initiative by the state government. He added that more than 51 thousand solar lights had been installed in the snow bound and hard areas of the state.
He urged the Union government to continue subsidy on the renewable energy devices so that these resources could be made more popular and acceptable amongst the common masses.
The Minister appreciated the efforts of the concerned officials of the HIMURJA for making renewable energy resources popular in the state.