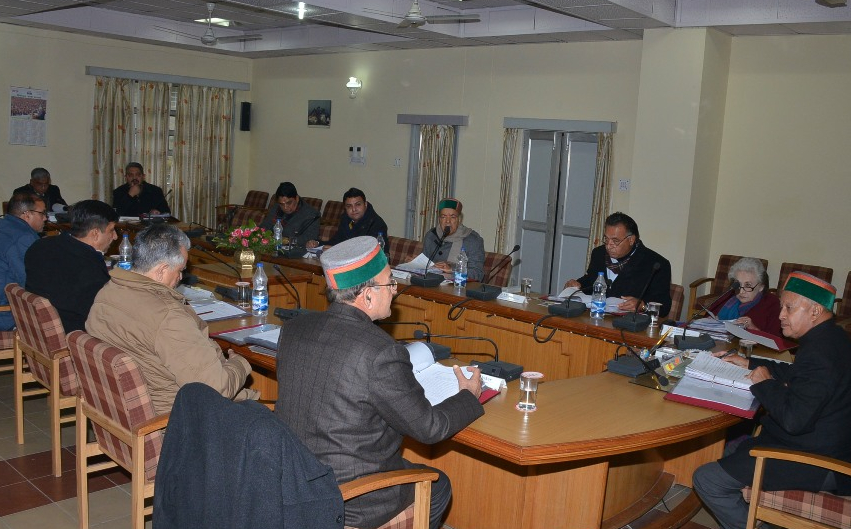 In order to facilitate the citizens of the State to get their work done in different government offices easily, the State Cabinet has decided to do away with the practice of obtaining affidavits for various purposes.
Now, except for certain cases where filing of affidavits was mandatory under any Act or Rule, any person will have to submit a self-declaration on a plain paper.
The Cabinet, in its meeting today at Dharamshala under Chief Minister Virbhadra Singh, also agreed for framing new rules titled Minor Minerals (Concession) and Minerals (Prevention of illegal Mining, Transportation and Storage) Rules, 2015, Repeal of Minor Minerals (Concession) Revised Rules, 1971 and H.P. Minerals (Prevention of Illegal Mining, Transportation and Storage) Rules, 2004.
The priority will be given to all agencies concerned with implementation of Infrastructure Projects in the department of MPP & Power and NHAI apart from departments already included. Their authorized agencies or contractors will also be given priority.
Cabinet also has given approval for recruiting as many as 900 posts in various departments
62 posts of Principals in Industrial Training Institutes as per NCVT norms, 800 posts of Police Constables (640 Males and 160 Females) on regular basis in HP Police Department through direct recruitment, five posts of Junior Scale Stenographer, eight post of Steno Typist on contract basis, eleven posts of Excise & Taxation Inspectors as per existing R&P Rules, eight posts of Class-IV from surplus pool and twenty posts of IT personnel through outsource basis in the department of Excise & Taxation, one post of Law Officer in the Directorate of Technical Education Vocational and Industrial Training, Sundernagar, three posts of Senior Assistants on secondment basis in Resident Commissioner Office, New Delhi, one post of Assistant Professor in Sanskrit in Pundit Anant Ram Degree College, Baroh, one post of the Deputy Director in IPH Department from Deputy District Attorney and post of Law Officers from Assistant District Attorney.
The Cabinet also has given nod to fill the vacant post of Ski Trainer, Mountaineering Observer, Water Sports Trainer and two post of Mountaineering Trainer on contact basis in Atal Bihari Vajpai Mountaineering and Allied Sports Institute at Manali in Kullu district.