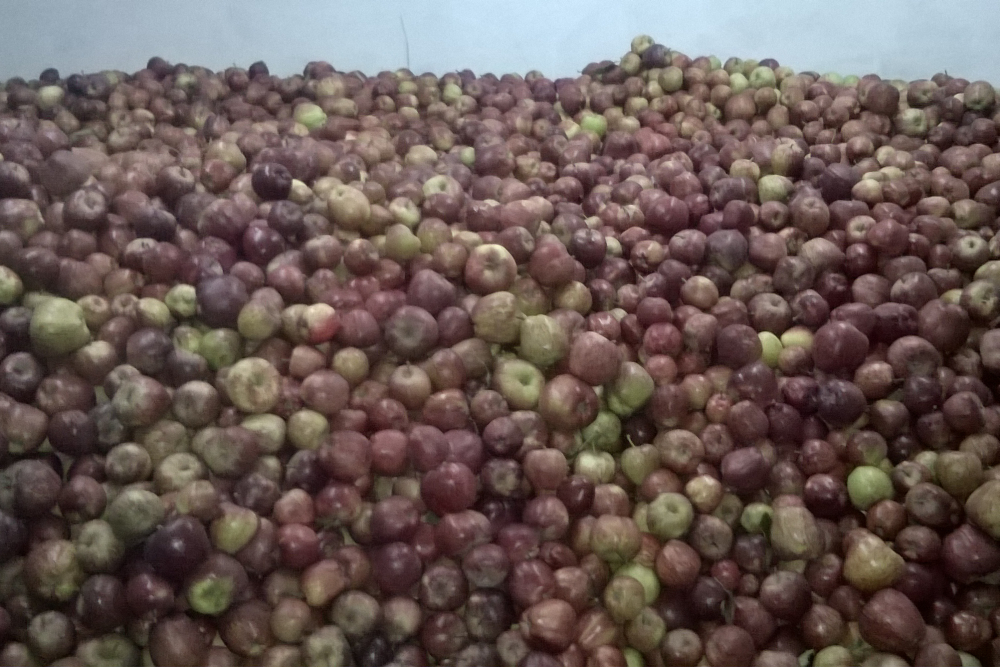 Aiming to transform the horticulture sector in the State, H.P Horticultural Produce Marketing and Processing Corporation Limited (HPMC) has achieved all time high sales targets of Rs. 9000 lakhs.
The Corporation has also achieved another landmark by making spoil free transportation of about 18889.548 MTs and about 7000.938 MTs of apple procured under the Market
Intervention Scheme (MIS) during 2013-14 and 2014-15 for the first time. In two years, the Corporation extracted about 840.30 MTs and 527.04 MTs of apple juice concentrate. It sold about 4.01 lacs Tetra Pak Juice trays of different blends upto March, 2014 and as on 31st October, 2014, the Corporation sold 3.64 lakh trays.
Keeping in view the market demand and consumers preferences, the Corporation switched over to pet bottle concept in 300 and 500 ML bottles for filling of juices/drinks of different blends and initially started the manufacturing at Vijayawada and Chittor (Andhra Pradesh) in South India during 2013. After having received good response from the market, the product has now been launched/ introduced in North India as well. The Corporation has sold about 3.50 lakh bottles valuing Rs. 148.87 lakhs during 2014 as against 2.40 lakhs bottles valuing about Rs. 54 lakhs during 2013-14. The product has suddenly become quite popular among the consumers in the country.
In order to provide most advanced apple packing/grading facilities to the farmers of the State, the Corporation with financial assistance of APEDA to the Government of India commissioned four high tech computerized packing/grading facilities at Gumma, Oddi and Jarol-Tikkar in District Shimla and Patlikuhal in District Kullu with Controlled Atmosphere Store facilities (CAS) at Gumma and Jarol-Tikkar. After keeping sufficient storage/grading packing facility for the farmers, the Corporation leased out the facilities to the private parties and has managed to generate about Rs. 150.00 lakh revenue as against about Rs. 80.00 lakh achieved during 2013-14.
In view of abrupt crash in apple prices during the mid apple season, the Corporation created additional storage capacity of about 35,000 apple boxes and Rohru, Jabli and Oddi almost after 14-15 years for the benefit of the farmers by repairing these cold storages which were rarely put to use after their commissioning. The farmers were largely benefited by these facilities by storing the fruit and selling the same when prices increased on the one hand and the Corporation generated additional revenue from this segment.
The Cold Store Mumbai which was incurring losses for quite some time and shortage of staff due to retirement, the Corporation will get net revenue of Rs. 117 lakh, Rs. 132-21 lakh, Rs. 149.40 lakh, Rs. 169.57 lakh and 19331 per annum from this Cold Storage over the five years period.
With a view to benefit the farmers, it introduced a new scheme for providing apple cartons/trays at most competitive rates to the marginal/needy farmers against their future payable MIS payment. Under the scheme the Corporation supplied/sold about 5.55 lakh cartons during 2013-14 and about 7.74 lakh cartons as on 31st October, 2014.
HPMC is one of the major suppliers of Tree Spray Oil and inputs to the apple farmers of the State and supplied/sold the product for about Rs. 1050.17 lakh during 2013-14.
HPMC is all set to upgrade its exiting processing plant at Parwanoo with the financial assistance of Rs. 1250 lakh to be provided by APEDA which will not only increase the production capacity but also reduce the average conversion ration of apple juice concentrate.
After having received good response of CA Stores from the farmers and private players, the Corporation has decided to convert its existing cold stores and Rohru, Oddi in Shimla District and Patlikuhl in Kullu in to Controlled Atmosphere stores before the onset of apple season 2015. This will help a great deal in using these facilities for the benefit of the farmers besides helping HPMC in improving its revenues.
The HPMC has also diversified in to vegetable sector and a modern Fruit & Vegetable Pack House with attached Cold Room and Pre Cooler facilities with an installed packing/grading capacity of 4800 MTs per annum with a estimated project cost of Rs. 353 lakh funded by APEDA has been planned at Nadaun in District Hamirpur for which land has been acquired. Similar facility with project cost of Rs. 4.35 crore at Ghumarwin in Bilaspur is also being commissioned soon.
The Corporation is all set to commission modern apple pack house at Reckong Peo in Kinnaur district which will be made functional before the onset of next apple season.