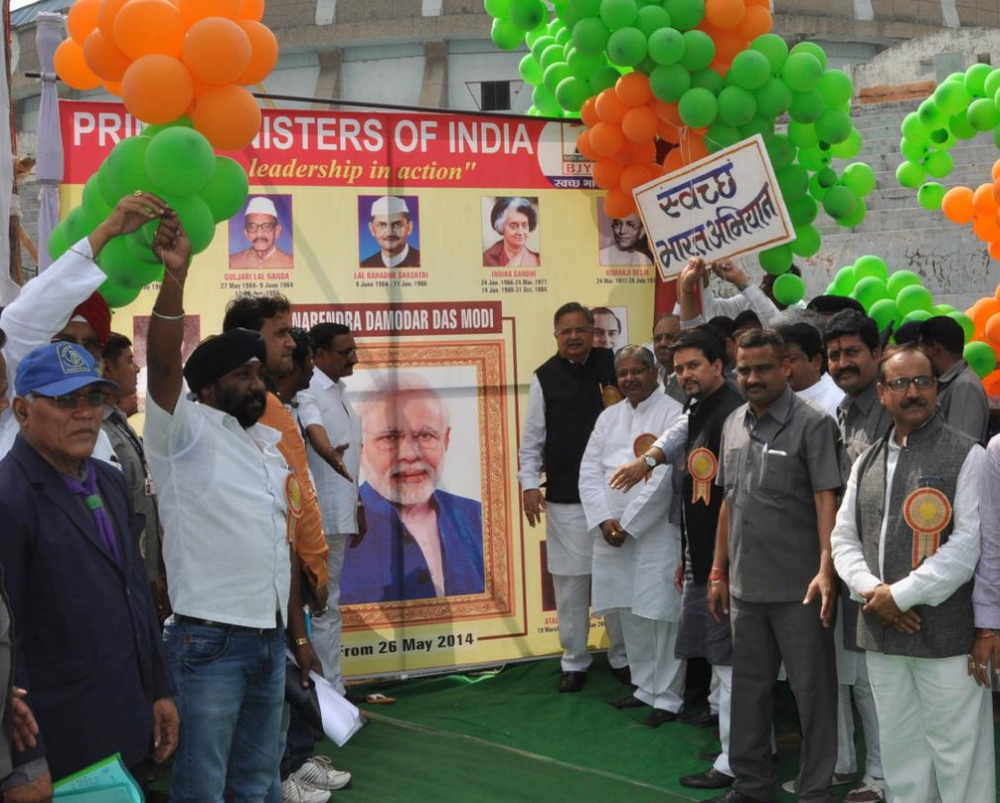 Raipur: BJYM national president and Hamirpur MP Anurag Thakur and Chattisgarh Chief Minister Raman Singh today unveiled world's largest poster dedicated to clean India campaign in Chattisgarh's Raipur today.
Chhattisgarh unit of BJYM and Rungta Group of Institutions (RGI) have jointly developed the poster, bearing photographs of all Prime Ministers of the country.
With this big banner, Chhattisgarh BJYM aiming to reach out to the entire nation, especially the youth of the country, to encourage them to contribute in the clean India campaign for a bright future.
A team from Guinness World Records was present during the programme to verify the claims and now awaiting for an official announcement.
Anurag Thakur administered the oath of clean India campaign to the BJYM activists and asked them to devote 100 days of the year to the clean India campaign.
Anurag Thakur lauded the role of BJYM's Chattisgarh unit. He asserted that BJYM's Chattisgarh unit has always done appreciable work for implementing national or regional campaign.
He also asked them to work in upcoming local body elections to ensure Prime Minister Narendra Modi's and party president Amit Shah's dream to ensure Congress free India.
Earlier in the morning he was accorded a grand welcome on Raipur's Swami Vivekanand airport.