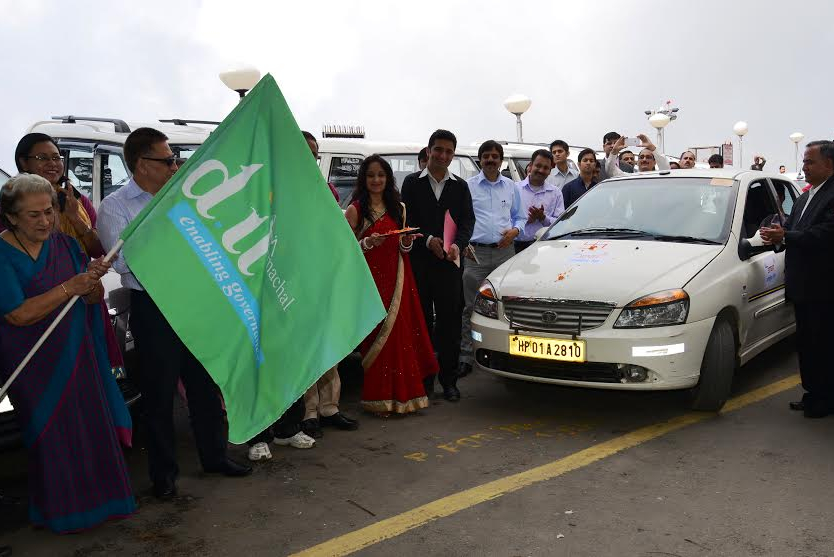 Irrigation & Public Health and Information Technology Minister Vidya Stokes launched a special drive to cover hundred percent population of the State under Aadhaar scheme by flagging off Mobile Aadhaar Enrolment Van from H.P. Secretariat here today.
On this occasion, Stokes said that State Government had worked out a detailed strategy of deploying 50 Mobile Enrolment Vans to enroll the left population of five percent under Aadhaar. She said that these vans would follow a panchayat-wise route plan and would provide services to every panchayat for a minimum period of three days. People who did not receive their Aadhaar numbers could also contact these roaming enrolment centres and collect their e-aadhaar and any person whose Aadhaar enrolment has been rejected could also re-enroll through these centres.
Information Technology Minister said that Himachal Pradesh was one of the leading States in Aadhaar coverage in the country, where more than 68.63 lakh residents have been enrolled and UID has been generated for more than 64.90 lakh residents which was about 95 percent of total population. She said that after Shimla district, the drive would be followed in other districts of the State.
Stokes said that the State has distributed more than Rs. 37 crore to the beneficiaries of different government schemes through Aadhaar based Direct Benefit Transfer (DBT). She said that Food & Civil Supplies Department has digitized 78 percent of the ration cards seeded with Aadhaar and it has been seeded in the MNREGA database and 80 percent of the active MNREGA beneficiaries were mapped with their Aadhaar numbers.
She said that during the first phase of aadhaar enrolment process more than 44 lakh people have been covered and in the second phase 26 lakh people have been enrolled. She said that districts like Hamirpur, Mandi, Una and Bilaspur were having more than 100 percent Aadhaar enrolment compared to its population. She said that highest 27 percent population enrolled under scheme was young between 16 to 30 years age group. She said that the initiative of the Government has been appreciated by UIDAI and many other government agencies.
Principal Secretary, Information Technology Ali Raza Rizvi, Director Information Technology Priyanka Igneti Basu, Director, Food and Civil Supplies Priyatu Mandal and other senior officers of the State Government were also present on the occasion.