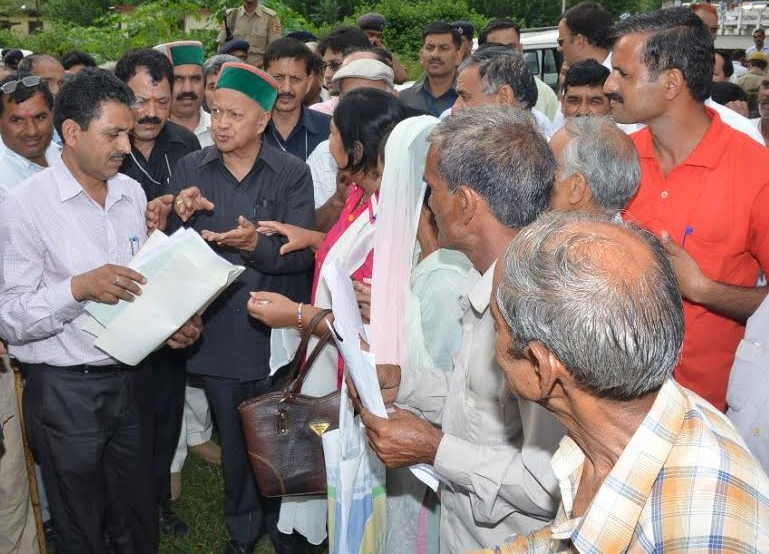 Himachal Pradesh Chief Minister Virbhadra Singh today took stock of the flood ravaged areas in Kanjyan, Chamboh, Darin, Bagwara, Jho, Badhani, Nagrota Gazian, Bhareri-Palli and Jahu in district Hamirpur, which were worst affected by the floods due to heavy rains.
He was accompanied by Revenue Minister Kaul Singh Thakur, Chief Parliamentary Secretary Inder Dutt Lakhanpal, Chairman, Disaster Management Authority, Rajinder Rana and Member HP State Women Commission and Member Zila Parishad Samirpur Promila Devi besides Deputy Commissioner, Rohan Thakur and Superintendent of Police Ajay Bodh and other senior officers of the State.
The Chief Minister said that the Government was well aware about the problems of the families who had suffered heavy loss and will compensate them accordingly. He also met the people en-route in these badly affected Panchayats and listened to their grievances and assured of every possible help. He said immediate relief had already been distributed as per relief manual, but more financial assistance would be made available to the affected families.
The Chief Minister said that out of 150 roads which were either closed or partially washed away and as many as 149 roads had been restored for vehicular traffic. CM said "I was apprised that as many as 275 houses were partially damaged, 212 cow sheds, seven water mills, besides loss to human lives and relief to the tune of Rs 72 lakh was disbursed amongst and the families who suffered loss,"
Deputy Commisioner Rohan Thakur briefed that a Bailey Bridge over Kunah rivulet enroute Didwin-Tikkar, on National Highway was constructed within no time and also all the IPH Schemes had been restored.