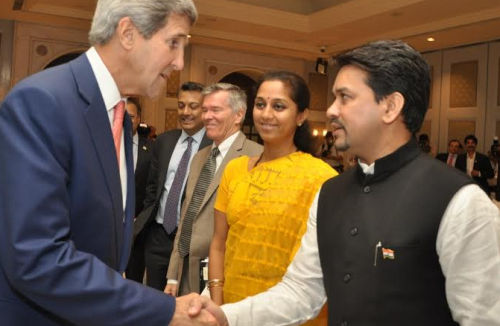 Dharamshala: A Court has issued a non-bailable warrant against Hamirpur MP Anurag Thakur for not appearing in the court in a case obstructing a public servant from discharging his duty.
Chief Judicial Magistrate Jaswant Singh, while rejecting Thakur's application for exemption from personal appearance in the court, directed the state vigilance and anti-corruption bureau to produce the accused in the court on August 20th, 2014, the next date of hearing.
Thakur's counsel has pleaded that due to the ongoing parliament session, the Hamirpur MP was unable to appear in the court. However, the court rejected the application on the basis that neither documentary proof was provided to prove that accused is an MP and nor he has signed the application submitted for exemption from personal appearance.
Thakur and his associates BJP spokesperson Praveen Sharma, Kutlehar MLA Varinder Kanwar, HPCA spokesperson Sanjay Sharma, Hemanshu Mishra and Vishaw Chakshu Puri were accused of obstructing public servant in discharge of public functions under Section 186 of the Indian Penal Code (obstructing public servant in discharge of public functions) on October 24, 2013, when he had visited Dharamshala vigilance bureau office to join investigation in a case of cheating registered against HPCA.
Hemanshu Mishra against whom the CJM court has issued bailable warrant during last hearing was granted bail today on furnishing bail bond of Rs. 10,000.