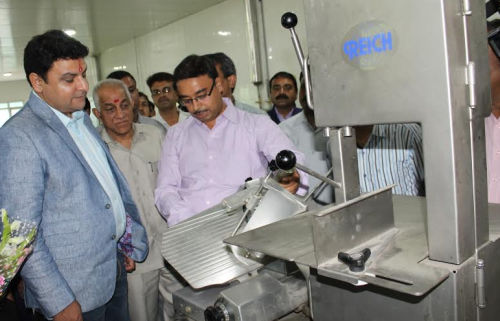 Shimla: Urban Development Minister Sudhir Sharma inaugurated the slaughter house built at the cost of Rs 28 crore and the 19-shop Auckland tunnel commercial complex built at the cost of Rs 35 lakh here today.
Minister revealed that the slaughter house has the latest machine and will be manned by trained staff in two shifts of eight hours each. Urban Development Minister also flagged off four air-conditioned vehicles from the slaughter house which would deliver at different retailers in city.
After inaugurating the slaughter house, Sharma opened the Auckland commercial complex. He revealed that Rs 20 lakh would be spent on the toilet block meant for public near the complex, while Rs 5 lakh would be spent on the drainage pipeline.
Shimla Mayor Sanjay Chauhan, Deputy Mayor Tikender Panwar, councilors Kala Sharma, Rajni Singh and other representatives and officials present on both occasions.