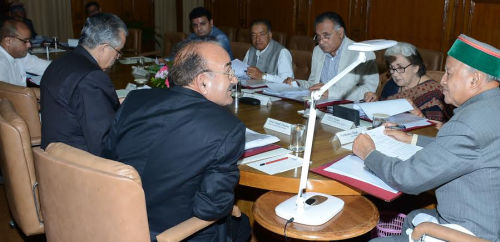 The Himachal Pradesh Cabinet has agreed for amendment in rules of Himachal Pradesh Building and Other Construction Welfare Board (Regulation and Employment and Condition of service) Rules 2008, wherein a sum of Rupees one lakh will be provided to the beneficiaries in case of accidental death and Rs 50000 for natural death between the age group of 18 to 60, besides providing bi-cycle, Solar lamp and Washing Machine for female workers.
The Cabinet, which met here today under the Chairmanship of Chief Minister Virbhadra Singh, also given approval to allot as many as 37 Hydro Power Project in Private Sector on Build Own Operate and Transfer (BOOT) by inviting global bids with modification to fix the minimum limit of threshold upfront premium at the rate of Rs. 35 lakh per Mega Watt.
The cabinet approved transfer of land in the name of National Council of Science Museums, Ministry of Culture, GoI for the construction of Science Museum at Palampur in the Campus of Himachal Pradesh Krishi Vishwa Vidalaya Palampur.
For setting up new industrial units in the State it was decided to give 50 percent reduction in Stamp duty on registration of sale /conveyance deeds and lease deed hence fulfilling the budgetary promises made by the Chief Minister for encouraging investors in the State. Besides, Cabinet approved adopting e-filing system in H.P. for collection of Court Fee on-line.
The Cabinet has given its approval for setting up a permanent Fruit Collection Centre, Packaging & Grading, Sorting House, Pre-cooling and Fruit processing unit at Lavan between Kingal & Sainj in Kumarsain Tehsil of district Shimla.
Approval was granted by the Cabinet to extend contract period of Tailoring Teachers for one year and also agreed for making further amendment in the existing rules by giving yearly extension in the contract period of Tailoring Teachers, so appointed where considered appropriate.
It approved filling up of 100 posts of Panchayat Sahayaks. It approved eight posts of Assistant Engineer (Civil) in PWD Department. Nod was given to fulfill the vacant posts in Rajiv Gandhi Government Ayruvedic College, Paprola on contract basis, besides 30 additional Warders on contract basis in Prisons Department.
The Cabinet agreed to provide 35 kgs food grains to Above Poverty Line (APL) families in tribal areas of Himachal Pradesh.
Approval was given to constitute Talhiwal as Nagar Panchayat in Una District. Cabinet also approved to open Tehsil Welfare Office at Nagrota Bagwan in District Kangra.