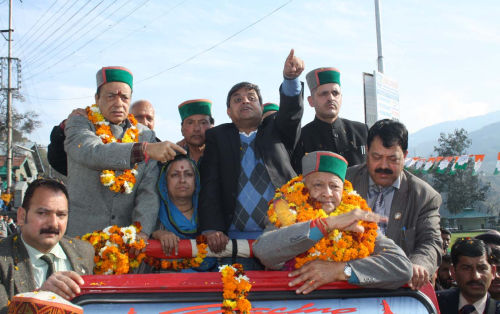 Chowari: Eyeing at the forthcoming General Election, Himachal Pradesh Chief Minister Virbhadra Singh is on major inauguration spree. In the past couple of months, Chief Minister has almost covered entire state and inaugurated major developmental projects worth crore across the state. With the aim to supervise the developmental projects and redress the public grievances at their door-steps, Chief Minister Virbhadra Singh's three day Chamba Tour started today.
On the forst day of his tour, Chief Minister laid foundation stone of 10.400 kms long Patka-Hathi Dhar road to be constructed at a cost of Rs. 516.11 lakh, which will benefit more than one thousand population of Druma census village along-with ten other adjoining villages. He also laid foundation stone of remodeling of flow irrigation scheme for Chowari at Trimath. The scheme would be completed by spending Rs. 421.76 lakh benefiting people of Chowari Nagar Parishad and Kuthar and Jatrun villages.
While addressing a public meeting at Chowari in Bhatiyat assembly constituency of Chamba district, Chief Minister Virbhadra Singh claimed that the State government is giving priority for the speedy development of the backward and hard areas of the State to ensure their development at par with other areas.
Asha Kumari, legislature, said that present State government under the visionary leadership of Chief Minister Virbhadra Singh had taken path breaking initiatives to ensure welfare of every section of the society. She said that five thousand functional posts would be filled up in different departments during next financial year. She said that Himachal Pradesh had started subsidized ration scheme much ahead then announced by the government of India by making a provision of Rs. 175 core which would now be increased to Rs. 250 crore.
Chander Kumar, Kuldeep Singh Pathania, Chairman, State Pollution Control Board, Kewal Singh Pathania, Vice Chairman, State Forest Development Corporation and other prominent person of the area were present on the occasion.