Per Capita Income surges by 8.2 percent
Shimla: The State Planning Board has approved the annual plan size of Rs. 7100 crore for the year 2019-20. Plan size has registered an increase of Rs. 800 crore from the last year's annual plan of Rs. 6300 crore, thereby registering an increase of 12.70 percent.
The social services sector, transport and communication, agriculture and allied activities, energy and irrigation and flood control have been given priority. An outlay of Rs. 3048.15 crore has been proposed for social service sector which is 42.93 percent of the total outlay. Transport and communication sectors are being given the second priority with proposed outlay of Rs. 1241.98 crore, which is 14.49 per cent of the total outlay.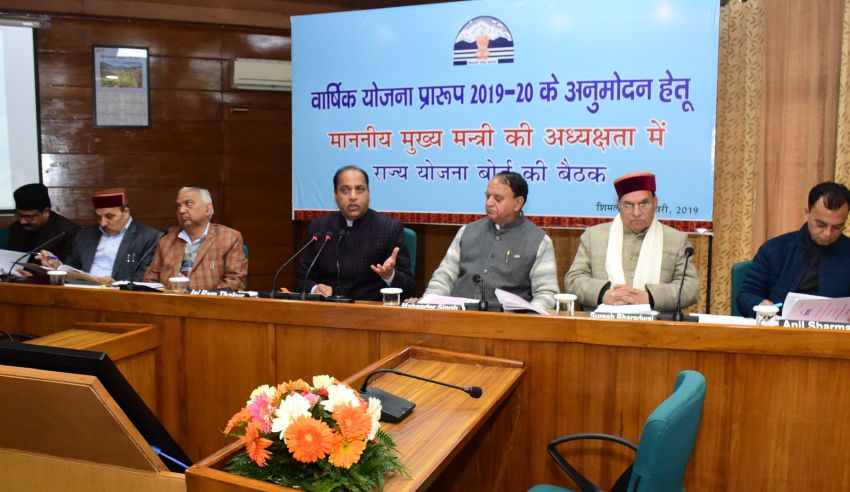 Agriculture and allied activities sector has also been given added priority and outlay of Rs. 877.25 crore have been proposed. Rs. 711.06 crore has been proposed for energy sector, Rs. 457.48 crore for irrigation and flood control and Rs. 335.15 crore for general economic services while Rs. 133.89 crore has been proposed for other general services sector.
Rural development has been allotted Rs. 133.65 crore, industries and minerals Rs. 95.59 crore, science technology and environment Rs. 38.02 crore and Rs. 27.78 crore for special area programme.
For the implementation of schemes largely benefiting scheduled caste population Rs. 1788.49 crore has been provided for Scheduled Castes Sub Plan. Similarly, 9 percent funds amounting to Rs. 639 crore have been provided under the Tribal Area Sub Plan which is aimed at development of the tribal areas of the State. Rs. 80 crore has been allocated for backward area Sub Plan for development of the backward areas of the State.
Per capita income of the state has also witnessed an increase of 8.3 percent to Rs. 1, 58,462 in 2017-18, while it was Rs. 1, 46,294 in 2016-17.
Rs. 735 crore have been proposed under Rural Infrastructure Development Fund (RIDF) loan funding from NABARD. Under this a sum of Rs. 427 crore has been proposed for roads and bridges, Rs. 143 crore for rural water supply schemes, Rs. 125 crore for minor irrigation schemes, Rs. 40 crore for soil conservation and flood control etc.