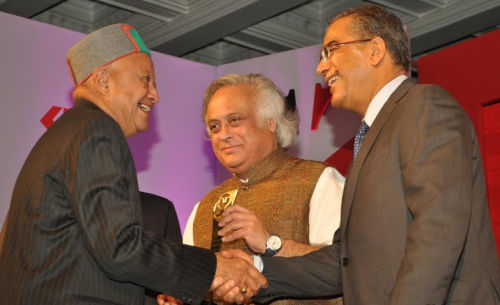 New Delhi: Himachal Pradesh has been adjudged best State in the Country in Health & Investment sectors in the category of big States. Union Minister for Rural Development Jai Ram Ramesh presented the Best State Awards to Chief Minister Virbhadra Singh in "State of States conclave-2013" held today at New Delhi.
As per report, Himachal Pradesh has outperformed in Health & Investment Sectors among the big states of the country during last one year.
Chief Minister Virbhadra Singh dedicated this award to the people of the State. While speaking on the occasion, he said that the State had received Award in both small & big State categories in various fields since inception of this Award. "The State has outperformed in various social & economic sectors and the Award has recognized the work done by the State", he added.
Virbhadra Singh said that the State has enhanced its health budget by a huge 24 percent for the year 2013-14 in comparison to the previous year. The State had one health sub-centre for every 2,800 people as against the norm of one for every 3,000 for hill states. It has at least one primary health centre for every 13,000 people as against the national norm of one of every 20,000. The government was providing lucrative incentives to the doctors and shortage of the specialists was being filled up on priority. He said the State had eradicated malaria and brought leprosy cases down to less than one per thousand.

Virbhadra Singh said that the state had 3841 health institutions and 80 percent of the health needs were being met by the public sector. The sex ratio in the State had also gone up from 915 to 972. The State had registered 30 percent rise in the number of registered doctor in comparison to 10 percent rise in other states. Its female infanticide ratio had come down to 39 per thousand from 47 per thousand during last one year.
Virbhadra Singh said that the state had set up 42 industrial areas, 17 industrial estates and was planning to develop new industrial quarters at Khandouri in Kangra and Pandoga in Una and Dhobata in Solan District. It had also formed an 8,000 bigha land bank comprising both government and private land for setting up new industries. He said that the investment had grown by nearly 600 percent from Rs. 3,082.68 crore in 2002-03 to 17,312 crore now.
As per latest report of India Today, Himachal Pradesh has outperformed all the big states on every health indicator. It has a birth rate of 16.2 against the national average of 21.8. Mortality rate is 6.7 compared to 7.1 nationally. Infant mortality rate is around 25 against 44 in the rest of India. Himachalis are also expected to live longer with life expectancy at birth being 70 years.
The State is targeting an annual growth rate of 15 percent with concomitant 9 percent growth in GDP. The manufacturing sector is likely to contribute at least 25 percent of the state GDP by 2022.
The geographically challenged rural hill state of Himachal Pradesh has expended its traditional investments in tourism, floriculture, horticulture, herbal medicine and hydro electronic power to an assortment of hi-tech sectors such as pharmaceuticals, automotive components, cement, FMCG, chemicals, textiles, electronic hardware and information technology.
The report reveals that in the past 12 months alone, the state's Gross capital formation has grown 70 percent as against the national average of 29 percent while industrial workforce has increased by about 20 percent compared to less than 10 percent in other big states.
A stable polity, efficient administration, clean environment, cordial industrial relations, abundant cheap power and high quality infrastructure including good roads have been highlighted for speedy industrial growth of the state during last one year.