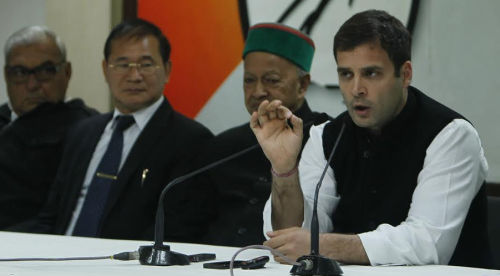 New Delhi: The Indian National Congress, in a meeting convened to chalk out the strategy to tackle corruption, Lokpal and price rise, has decided to implement Lokayukta Act in all Congress-ruled states before February 28.
Rahul Gandhi chaired the meeting, which was attended by all Congress' Chief Minister. While talking to the press, Congress vice president Rahul Gandhi asserted that the party is "dead serious about fighting corruption". He said that the Congress want to get accountability of national level Lokpal to state level Lokayukta as well. He said that Lokpal was only a first step and need a proper framework not just at the national level but also state level to tackle the menace of corruption.
The Congress also discussed the issue of hoarding and to check it the party has decided to delist fruits and vegetables from the Agriculture Produce Market Committee (APMC) Act to help the farmers directly sell their produce to the government and all Congress-ruled states will implement it by January 15, 2014.
To sternly deal with hoarding, black marketing and profiteering, the party has decided to implement (Essential Services Maintenance Act) ESMA in all Congress ruled states.
To check the price rise of essential items like fruits, vegetables and eggs, the Congress has decided to set up fair price shops in all Congress ruled states.
With the 2014 Lok Sabha elections around the corner, the Congress party doing some damage control. Corruption and inflation were the two factors believed behind the anti-Congress sentiment in the country and with these steps, how much Congress benefited and succeed to woo electorates back, will be interesting to see.