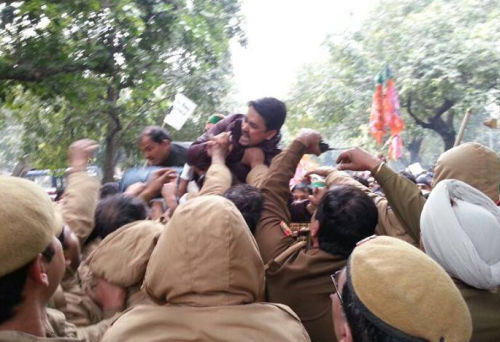 New Delhi: The Bhartiya Janta Yuva Morcha (BJYM) staged a demonstration outside Congress vice president Rahul Gandhi's residence here today and demanded action against Himachal Pradesh Chief Minister Virbhadra Singh.
The BJYM national president and Hamirpur MP Anurag Thakur led the protest and while trying to cross the security barricades outside Gandhi's residence the police used water cannons and also resorted to lathi-charge to bring the situation under control.
Many protesters of BJYM were also detained by police and taken to a nearby police station and released later.
BJP were accusing HP Chief Minister Virbhadra Singh for taking a bribe for granting extension to a private power firm for a project. Even senior BJP leader Arun Jaitley has written to the Prime Minister and demanded him to take action against him.
However, Chief Minister Virbhadra Singh has rejected the allegations and termed them false and highly defamatory. He has stated that he is ready to face any enquiry ordered by the Prime Minster.