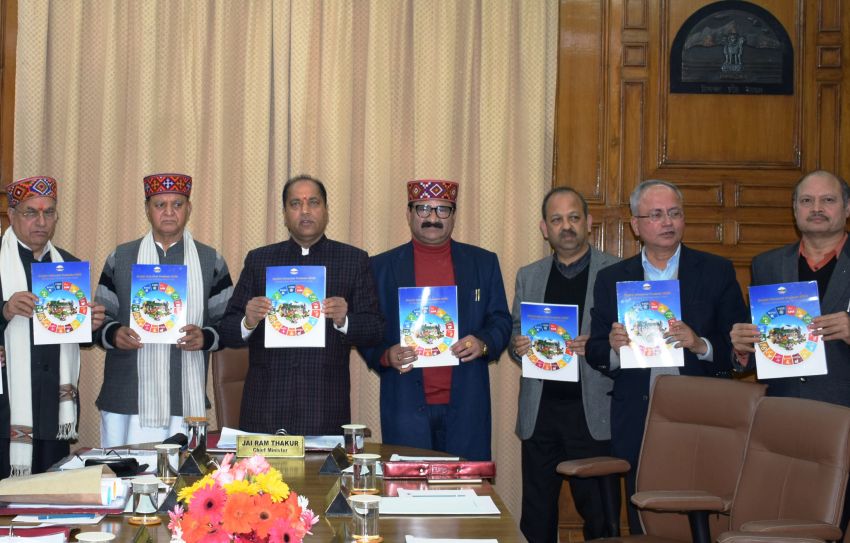 Chief Minister Jai Ram Thakur released 'Drishti Himachal Pradesh-2030: Sustainable Development Goals' here today. The Sustainable Development Goals (SDGs), officially known as 'Transforming our World: the 2030 Agenda for Sustainable Development', are an intergovernmental set of 17 aspiration goals with 169 targets that were adopted in September, 2015 by the United Nations General Assembly and the same has been signed and adopted by the Government of India.
The Chief Minister, while speaking on the occasion, said the purpose of the vision document was to provide a road map for transformational development of the State in the pursuit of SDGs. The State government finds the goals as an opportunity that provides a new dimension to development. With the Agenda for Sustainable Development-2030, which aims at leaving no one behind in sharing the benefits of development, the State government had been pursuing inclusive growth with the motto of "Sabka Saath-Sabka Vikas".
He said the State government was committed to attain synergy between faster and inclusive economic growth, social cohesion and environmental sustainability in Himachal Pradesh to facilitate overall prosperity and a better quality of life for people of the State. He stressed that implementation of the SDGs would require building partnership with the private sector, civil society institutions, knowledge communities, panchayats, local bodies, domain experts and citizens of the State.
The Chief Minister said the state government was committed for achieving the SDGs before the set time-line of 2030. The budget speeches for 2018-19 and 2019-20 have been guided on the SDGs. The new schemes/programmes initiated in 2018-19 and proposed to be initiated in 2019-20 revolve around SDGs.
He informed that based on 62 priority indicators, NITI Aayog has brought out a report "The SDG India Index: Baseline Report 2018" in December, 2018. Himachal Pradesh has been ranked as number one performing state in making efforts to achieve SDGs.
Jai Ram Thakur said that the key challenge for the State government would be resource mobilization for implementation of new schemes/programmes and a robust monitoring mechanism to track the progress made in achieving the targets and indicators.
The Chief Minister appreciated the efforts and hard work of the Planning Department and the National Foundation for India (NFI), New Delhi, for their technical support in development of the vision document.
To popularise the SDGs in the State, a set of 16 posters on SDG goals and targets were also released, which will be circulated to the departments, institutions, NGOs etc