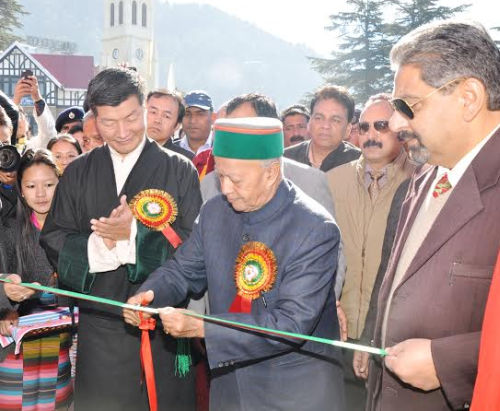 Shimla: Chief Minister Virbhadra Singh underlined the need for bringing people of all Himalayan regions with different cultural and life styles under a common platform so as to foster better understanding, exchange of ideas and share cultural values, since there exists lot of similarity between the way of life and culture of people of all Himalayan regions.
He said this while was presiding over the Himalaya Festival-2013 organized by the State Tourism Department in collaboration with Department of Home, Central Tibetan Administration (CTA), Dharamshala, at the historic Ridge, here today.
He expressed happiness that in the present age of modernization, when the people were forgetting their cultural and social ethics, the people of the Himalayan region had kept their culture, traditions and life style intact.
Chief Minister said that it was an excellent initiative to organize Himalaya Festival which would go a long way in promoting friendship and cultural understanding among people especially living in the Himalayan regions. The State Government would endeavour to organize Himalaya Festival in better way in the near future by inviting all States of the Himalayan region.
He said that India and Tibet had a long association and we were happy that His Holiness Dalai Lama was living in Himachal Pradesh. He said there were certain issues of concern on the northern borders which should be resolved amicably by mutual efforts. He said the people of India were well-wishers of Tibetans residing here and we wish to see them back in their own country, soon so that they could live in a democratic set up, as they desire.
Dr. Lobsang Sangay Sikyong the Prime Minister in exile, CTA said that the Tibetan people living here were indebted to the State Government and Government of India for providing all support in hosting them and providing education at subsidized rates. He said Tibetan people owed special gratitude towards Himachal Pradesh Government as Head office of the Tibetan Government in exile was based at Dharamshala.
He expressed hope that Himalaya Festival would spread a message to the people world over to come and enjoy the natural beauty, hospitality and kindness of the people of the State. He also thanked the Chief Minister for lending support to the Tibetan community whenever required.
In his introductory speech Dr. Tsering Wangchuk, Health Minister of the CTA said this festival was organized to promote friendship and inculcate the spirit of oneness in various aspects of culture and life of the Himalayan people. He also thanked the State Government for lending its support in organizing the festival.
Earlier, Mohan Chauhan, Director, Tourism Department welcomed the Chief Minister and other dignitaries.
Tsering Tashi, Tibetan Settlement Officer proposed the vote of thanks. Chief Minister inaugurated the exhibition organized by the Ayurveda Department, Himachal Handicrafts Department, Tourism Department, Tibets Photo Exhibition by the department of Information and International Relations CTA, Food Festival organized by Toursim Development Corporation, consultation of Tibetan medicine & astrology and display of Budhist Sand Mandala.
A unique regional cultural programme was presented by the artistes from Ladakh, Kinnaur, Kangra, Sikkim, Bhutan and Tibetan Institute of Performing Arts, Dharamshala. Kaempo Sonam Tenphal, Deputy Speaker, Tibetan Parliament in exile, V.C. Pharka, Principal Secretary Tourism, Subhashish Panda, Secretary GAD, Dinesh Malhotra Deputy Commissioner, other senior officers of the CTA, students and prominent persons of the town were present on the occasion.