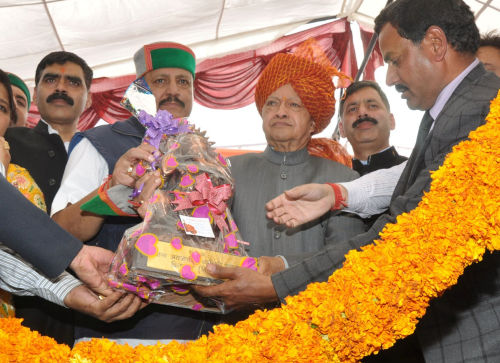 Chief Minister Virbhadra Singh said that all the left out Bhakra Dam Oustees would be provided plots for construction of their houses in Bilaspur Town within two years. He said it in a public meeting at Bilaspur today. He also distributed the plot allotment certificates to the Bhakra Dam oustees on the occasion.
Chief Minister said that he had performed 'Bhoomi Poojan' for Bhakra Dam Oustees near HRTC Workshop, Bilaspur during his previous tenure but the previous BJP Government have not taken further initiative in this direction. Instead, five plots were allotted to Saraswati Vidya Mandir at all five sectors of Bilaspur whereas the oustees were still awaiting for their rehabilitation after over five decades. He said that only one plot on market rate would be given to Saraswati Vidya Mandir and other four would be taken back for allotment to oustees.
Virbhadra Singh apprised that recently Cabinet had decided to regularize the encroachments upto 150 sq. meters to Bhakra oustees only on token amount of Rs. one per sq. meter. He said that those who have encroached more land would be taken back and re-allotted to their fellow brethren.
Chief Minister said that 363 Bharka dam oustee families have been identified for allotting land in Bilaspur town out of which 118 plots have been allotted in Nihal sector. He said that land had been identified for allotment of 30-31 plots and the case has been sent to Town and Country Planning Department for approval while rest of the oustee families would also be provided plots in Bilaspur town itself. He said that these families were allotted land in Hisar or Rajasthan but the people could not settle there because of one reason or other reasons.
He said that large numbers of families have been affected due to formation of large reservoir of Bhakra Dam and Pong Dam resulting in ousting of many families. He said that his Government had taken decision to allow only run of river hydel projects in the State in future so as to minimise the oustees' problem.
Virbhadra Singh said that plots would also be allotted to the people of Valmiki community, who were living in the Bilaspur since many centuries and Government would construct the houses for them.
Chief Minister said that he was fortunate to work with all the Prime Ministers of the Country. He said that he became Union Deputy Minister of Tourism and Civil Aviation of Prime Minister Indira Gandhi Cabinet and later he got the opportunity to handle the affairs of Industries Ministry. He said that only deserving and experienced persons have become Prime Ministers of the country. He said that Dr. Y.S. Parmar had laid a strong foundation for the progress of this hilly State and today we had made tremendous progress in all spheres of development.
Earlier, Chief Minister inaugurated 'Sanskriti Bhawan Avam Kala Kendra' housing art gallery and District Language officer Bilaspur constructed at a cost of Rs. 154.38 lakh. He said that it was a step towards preserving and display of culture, scriptures, sculpture, artefacts and paintings of Bilaspur and surrounding regions. He said that it would become popular with the people and particularly the tourists in times to come.
Chairman, State Planning and 20-Point Programme Committee Ram Lal Thakur said that Bilaspur district had taken long strides in development under the leadership of Chief Minister Virbhadra Singh. He said that Virbhadra Singh had not only waived off the interest but also loan taken for the house construction of Bhakra dam oustees. He said that Virbhadra Singh had opened many big offices in Bilaspur town such as Forest, Mid Himalayan, Fire, Conservator, District Session Judge and Fisheries etc. Besides, scores of Senior Secondary Schools and two colleges.
Chief Parliamentary Secretary Rajesh Dharmani said that Virbhadra Singh was an experienced Chief Minister of the country who had also worked as Union Minister many times and the State had been benefitting from his long and vast experience. MLA Bambar Thakur while welcoming the Chief Minister said that rehabilitation of Bhakra Dam oustees was an old issue and Virbhadra Singh has always safeguarded their interests which is evident by the today function itself. He said that BJP raised a bogey of opening a Hydro Engineering College in Bilaspur without making any budgetary provision. He requested the Chief Minister that Hydro Engineering College was a small wing thus full fledged multi engineering college should be opened at Bandladhar. He also urged to open a polytechnic in his constituency and ITI in Kuthera.
Forest Minister Thakur Singh Bharmouri, Chairman, Kangra Central Cooperative Bank Jagdish Sipahiya, former MLAs Babu Ram Gautam, Tilak Raj and Dr. Beeru Ram Kishore, District Congress President Santosh Dhiman, District Mahila Congress President Anjana Dhiman, Chairman, APMC Bilaspur Vivek Kumar, State Mahila Congress Vice President Pawana Sharma, Member, State Education Board Sita Ram Sharma, Advisor to Chief Minister T.G. Negi, Deputy Commissioner Dr. Ajay Sharma, SP Kapil Sharma, senior officers and prominent persons of the area were present on the occasion.