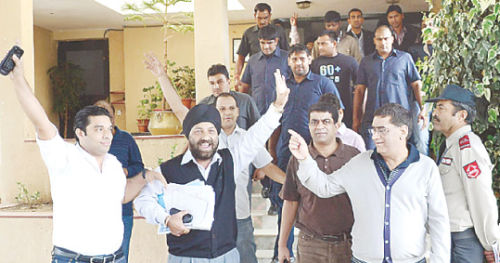 Controversy stricken BSE listed UG Hotels & Resorts Ltd, which operates through its unit called Shilon Resort, located on the Shimla-Kufri road, conducted its Annual General Meeting (AGM) amidst hue and cry from its shareholders and management.
The meeting of resort shareholders was important because one of its founder member and whole time director Harmit Ghai informed management of irregularities and also accused them for siphoning of funds illegally. Ghai attended the meeting under Shimla police protection citing life threats from managements particularly from Umesh Phalpher, MD and Chairman, Kuldip Vats and Sanjay Dhawan, independent directors.
Initially meeting started with uncertainty and furor, but with the pressure from the shareholders finally all parties agreed for a poll, post which Harmit Ghai was elected the Chief Managing Director of the company with overwhelming supports from shareholders. Phalpher and Vats however accused Ghai for using unfair means to get verdict in his favor and blamed him for using invalid votes of shareholders.
After the meeting, Ghai and his supporters rushed out from the resort premises accusing Phalpher and his supporters of manhandling him and his supporters on failing to get necessary supports from shareholders. Ghai also accused Phalpher's supporters for misbehaving with ladies.
While briefing the press, Harmit Ghai accused Phalpher for putting company into financial mess. He revealed that over 80 employees haven't got their salaries from last two months, which its employees have verified, and also accused Phalpher for not even paying luxury tax to the government and necessary payments of local venders.
He said that during his tenure, the company had turnover in crores, but after Phalpher took over as MD, the company revenue has dwindled sharply, which raises doubts, he added. He also accused Phalpher for siphoning funds from the company and promised shareholders to prove all irregularities.
The otherwise calm and peaceful location of Shilon Resort, which reads as "Forty Acres of Switzerland," witness some unlawful incidents during the AGM, surprisingly heavily armed personnel were spotted in and around the resort.
Private security was called to avoid any untoward incident during the AGM. Security guard reported that the armed strangers misbehaving with them. Few private vehicles were also parked in the resort campus and were using red becon illegally. After media intervention police was compelled to take action against them.
Two private buses, filled with the locals were also parked outside of the resort premises. Though, they refused to talk to press, but it's learned that majority of these locals are students of various colleges in Shimla.