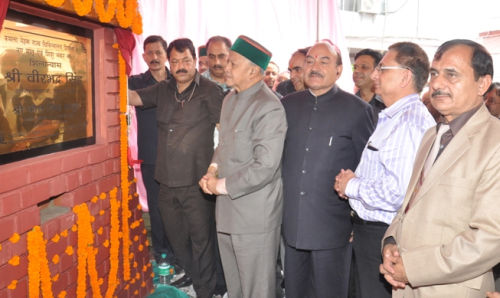 Chief Minister Virbhadra Singh laid foundation stone of 100 bedded Mother & Child Hospital at Kamla Nehru Hospital (KNH) here today. He said that Rs. 70 crore would be spent on the construction of this six storied building which would have all modern health care facilities pertaining to Mother & Child, which will be built after dismantling the old building.
Chief Minister said that the new building would have the facilities like central heating, post operative surgical beds & special wards, main & minor operation theatres, labour rooms and post labour rooms pre and after natal care wards etc. He directed the Public Works Department to ensure quality and standard work and complete this building within a year.
Virbhadra Singh said that sincere efforts were being made to develop IGMC as a premier health institution of the State. He said that new OPD and Administrative Block buildings were being constructed at IGMC Shimla with a cost of Rs. 66 crores. He said that on completion it would provide best health care facilities to the people visiting IGMC and OPD patients needs not to go the old hospital buildings and would have the entry facilities from both Cart road through lift and other from lower road via Lakkar Bazar.
Chief Minister said that with a view to de-congest IGMC and provide more space to the patients and students, Dental and Nursing Colleges would be shifted near Ghanahatti where a new complex of 100 bedded hospital would be constructed at a cost of Rs. 150 crores. He said that there would be no paucity of funds for creating and developing best health infrastructure in the State.
Chief Minister said State Government had accorded top priority to the health sector and efforts were being done to provide best health care facilities to the people not only in urban areas but also in remote and rural areas. He said that 100 posts of Doctors were being filled during current fiscal while 100 Doctors would be posted next year.
Virbhadra Singh added that the State Government intends to develop Himachal Pradesh as hub of health sector, where best health care facilities were available to the people of the State and Country. He said that apart from Government sector best reputed health institutions like Fortis and Vedanta etc. would be provided all facilities if they wish to establish their health institutions in the State.
Health Minister Kaul Singh Thakur said that he had recently taken up the matter of increasing MBBS seats in IGMC Shimla from 100 to 150 with Union Health Minister Ghulam Navi Azad, as it was more than 50 years old hospital.
Medical Superintendent KNH, Dr. L.S. Chaudhary while welcoming the Chief Minister said that KNH was oldest health institution of the State whose foundation stone was laid in 1923 by wife of Lord Reading and named as Lady Reading Hospital. He said that its name was changed to Kamla Nehru Hospital on 15th August, 1982 and was made State level Mother & Child Hospital on 6th March, 2006.
Dr. Santosh Minhas presented the vote of thanks. Dy. Mayor MC Shimla Tikendar Panwar, former Mayor Madhu Sood, Councillors of MC Shimla, Principal Secretary Health Ali Raza Rizvi, Deputy Commissioner Shimla Dinesh Malhotra, Special Secretary Health and Mission Director NRHM Amitabh Avasthi, Engineer-in-Chief, PWD Pradeep Chauhan, Director Health and Family Wefare Dr. Kulbhushan Sood, Director Medical Education Dr. Jaishri, Principal IGMC Dr. S.S. Kaushal, Sr. MS IGMC Dr. Ramesh Chand, Chief Engineer PWD D.K. Nayar, Senior Architect N.L. Negi, Retd. Prof. Dr. Tara Gupta and other officers, doctors, medical students and para medical staff were present on the occasion.