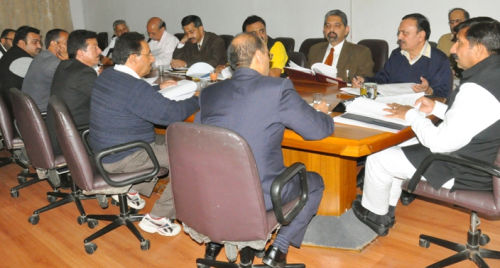 Industries Minister Mukesh Agnihotri while presiding over a meeting of the Board of Directors (BoD) of Himachal Pradesh State Industrial Development Corporation (HPSIDC) here today lauded the efforts of the management for earning a net profit of approximately Rs. 4.00 crore in financial year 2012-13.
He said that HPSIDC had made a significant improvement in its operation and hoped that the endeavours would continue in future also. The Board approved eight per cent ADA to the employees of the Corporation and decided to release ex-gratia payment to all employees and officials @ of 8.33 per cent of salary subjected to maximum of Rs. 15,000 as a gesture of appreciation to the employees for their self less efforts.
The Board also approved payment of dividend @ five per cent of the profit to the State Government which amounts to Rs. 1.54 crore. Besides, a proposal for construction of food-grain storage godowns at Baddi and Parwanoo for Food Corporation of India was also approved unanimously.
The Board welcomed the appointment of Atul Sharma as Vice Chairman of HPSIDC.
Rajender Singh, Managing Director, HPSIDC detailed about the working of the Corporation and assured that the projected targets fixed for the current financial year would be achieved in a time bound manner.
Principal Secretary Industries R.D. Dhiman, Director Industries Mohan Chauhan, Special Secretary Finance, Rajesh Sharma and other non official members of the BoD were present in the meeting.