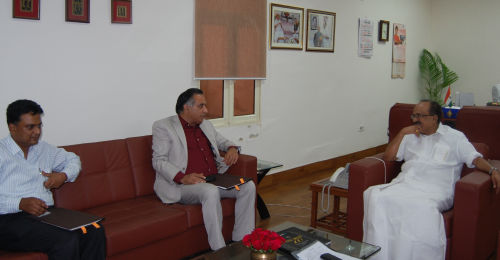 Government of India has convened a meeting of the State Food Ministers and Food Secretaries to discuss the implementation of Food Security Bill in the country. Food and Civil Supplies Minister, G.S. Bali disclosed this after meeting with Union Food Minister K.V Thomas, in New Delhi.
Bali reveled that the Government of India had convened the meeting of the State Food Secretaries on 23rd September while the meeting of the State Food Ministers would be held on 24th September in New Delhi
Food and Civil Supplies Minister G.S. Bali apprised the Union Minister that the State had taken all preparatory steps to launch the National Food Security Act including framing the guidelines for selection of beneficiaries under the Act. He said the Union Government had agreed to provide ration to APL families in Himachal Pradesh who had been left out of the purview of National Food Security Act.
He requested the Union Minister to provide liberal financial assistance to the State to develop the food grain storage facilities. He offered land and other infrastructural facilities for developing strorage facilities by the central agencies. He also requested for financial assistance for computerization of the Public Distribution System (PDS) to check the bogus ration cards and eliminate the pilferage of ration under PDS.
G.S Bali requested the Union Minister to convene the next meeting of the State Food Ministers in Shimla and offered the hospitality on behalf of the Government of Himachal Pradesh. He told that Shimla had vast infrastructural modern facilities to hold National level meetings and hoped that such meeting will also boost the State tourism sector in long run.
K.V. Thomas assured his full support to the State. He expressed his happiness on the working of Public Distribution System in the State and also accepted the invitation to visit Himachal Pradesh in near future.