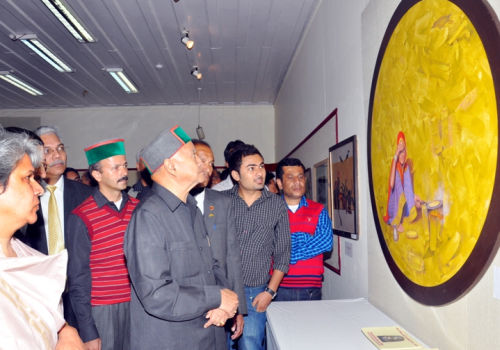 Chief Minister Virbhadra Singh inaugurated All India Art Exhibition-2013 at the Himachal State Museum, Chaura Maidan, Shimla today. The Exhibition was organized by the department of Language, Art and Culture.
Speaking on the occasion, Chief Minister said that a new block of Cafeteria, Reception and Sales counter would be constructed at the Museum to facilitate the visitors. He evinced keen interest in the paintings, sculptures and other exhibits displayed in the Museum. He expressed his happiness over the expansion and improvement in the Museum especially in Library which had been developed on Tibetan monastery style. He said that sincere efforts would be made to make it one of the best Museums of the North India.
Virbhadra Singh said that the State Museum started with a humble beginning and today it had become rich enough to showcase the rich heritage, legacy and culture of the various parts of the State. He said that State Government would provide all necessary assistance to make it more attractive for the foreign as well as domestic tourists. He congratulated the artists who got awards and space in the ongoing All India Art Exhibition-2013.
Chief Minister distributed the prizes to the awardees of this Art Exhibition.
Principal Secretary Language, Art & Culture Upma Chawdhary said that efforts were being made to spearhead the activities of the department so as to preserve and promote the rich cultural heritage of the State. She said that efforts would be done to further improve the State Museum and annual feature of All India Art Exhibition in future.
Director Language, Art & Culture D.K. Gupta while welcoming the Chief Minister informed that 228 entries of 139 artists from all over the country were received for this exhibition out of which 84 were selected for the display. He said that this exhibition would be continued till end of this month to show-case the talent of various artists to the visitors. He also detailed about the various activities of the department.
Winner of various awards
In Oil & Mix Media category 27 artists from all India participated in which Jaspreet Singh from Chandigarh won first prize for his painting titled 'Preet Ki Udeek', Chandan Sharma from Nahan district Sirmour got second prize for 'The Thoda' while Amarjeet from Pipli (Haryana) got third prize for 'Don't Talk to Me'. Harwinder Pal Singh from Sangrur (Punjab) and Randeep Singh from Kurukshatra (Haryana) got special awards for their paintings titled 'Childhood' and 'Doodh Wale' respectively.
In Water & Poster Colour six artists participated in which Laxman Prasad from Tutu, Shimla bagged first prize for his painting 'Banaras Ghat' while Jairaj Singh Pramar from Uttarkashi (Uttrakhand) got second prize for 'Land Scape'.
In Drawing and Graphics competition 32 artists participated in which Manoj Kumar of Chandigarh won first prize for his 'Curiosity', Shailender Pal from Amethi (UP) won second prize for 'Land Scape' while Vikas from Ramdarbar (Chandigarh) got third prize for 'The Saw of Ambitions'.
In Sculpture making nine artists took part. In this category Aanchal from Chandigarh got first prize for 'Self-Portrait' and Neeraj Jangra from Dagshai (Solan) got second prize for 'Untitled' while Mata Ram from Dadahoo (Sirmour) received special award for his sculpture titled 'Pahari Nartiki'.
Santosh Verma, Samual Masih and Tirthankar Biswas were the Jury Members.