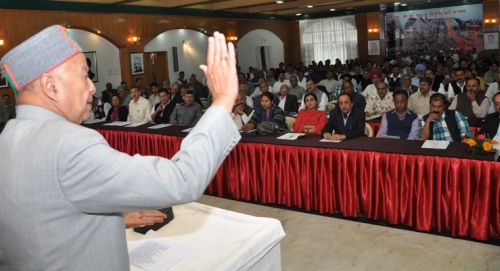 Preparing for the forthcoming general election, Himachal Pradesh Congress Committee organised an interactive meet of party leaders and office bearers of Shimla parliamentary at Shimla office. The main motive of this meet was to get feedback and prepare the strategy for the 2014 parliamentary elections.
Chief Minister Virbhadra Singh, cabinet minister Vidya Stokes and Col Dhani Ram Shandil, Pradesh Congress Committee chief Sukhvinder Singh Sukhu, AICC secretary and party state in-charge Raja Ram Pal, CPS Rohit Thakur and Nand Lal, most of office bearer of Congress Committee, MLA, Ex MLAs, member Congress Committee of all 17 assembly segments of parliament, district and block congress presidents and office bearers were present at the meeting.
While addressing the party workers, Virbhadra Singh asked the party men to educate the masses about the initiatives of the UPA government like the Food Security Act and the Right to Education Act. Singh believed that the Congress party has good chance to make a clean sweep in the forthcoming 2014 general election. He believed that the Congress had liberated the state from the "misrule of the Dhumal regime" and it was now trying its best to bring the administration back on the track and implementing various programmes for the welfare of people and speed up the development work.
Veteran Congress leader also take a dig at the BJP's Prime Minister Candidate Narendra Modi and said that his nomination hasn't any political impact in state. He said that Modi had canvassed as a star campaigner during the 2012 assembly election in state, but he failed to improve BJP's tally.
Sukhvinder Singh Sukhu accused Dhumal and his regime for commercialising sports and blamed him for using his power to protect his MP son's misdeed. He said that corruption was rampant during Dhumal regime. Attacking at the Himachal Pradesh Cricket Association, Sukhu said that HPCA was converted into a company to achieve the commercial ends. While interacting with the press at party office, Congress state president revealed that party will declare candidates' name for the four seats by December.