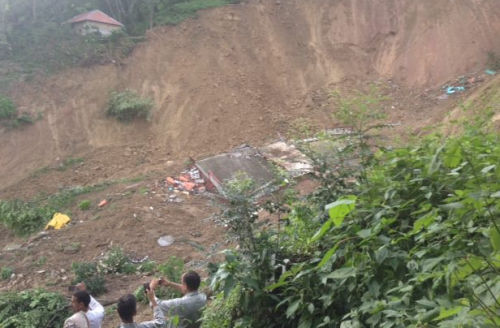 State Government said that the State has suffered massive damage to private and public property as a result of the excessive rains during this year's monsoon. The total cumulative losses suffered by the State have been assessed as Rs. 2767.48 crore.
A Spokesperson of the State Government disclosed here today that 41 people lost their lives in the entire State including 23 in Kinnaur, seven in Shimla, three in Sirmour, four in Kangra, one each in Chamba and Hamirpur while two in Mandi district. Besides, 23871 animals perished due to excessive rainfall and snowfall. Loss on this account has been assessed as Rs. 5.51 crore as per the NDRF guidelines.
He said that 3802 Pucca/Kucha houses were fully or partially damaged in various parts of the State due to landslides with overall loss to private property worth more than Rs. 100 crore. More than 4100 roads in the State have been affected due to rains and floods resulting into huge loss. The total losses on this account have been assessed as Rs. 1218.71 crore.
The entire stretch of National Highway from Wangtu to Sumdo has been washed out at various stretches. The loss on this account of the road maintained by BRO is Rs. 40 crore.
Heavy loss to the Government infrastructure as well as to the I&PH schemes in the State has been reported. Irrigation and Public Health Department is maintaining 8411 Water supply, 2327 Irrigation and 22 Sewerage schemes in Rural and Durban areas of the State. Besides, the department is also protecting the flood prone areas.
Due to excessive total loss in terms of money has been estimated as Rs. 240.63 crore affecting 2622 schemes including 84 flood protection schemes. The State Government has assessed damages caused to standing Kharif crops affecting 20573 hectares of land because of recent rains in the State to the tune of Rs. 200 crore.
The losses to the tune of Rs. 323 crore to the horticulture crops, the total area affected is 81457.5 hectares.
The electricity infrastructure has also been severely damaged especially in district Kinnaur and in other districts. The total loss of Power has been assessed to Rs. 455.55 crore.
A lot of community assets in the State like Mahila Mandal Bhawans, community centres, village paths etc. have been extensively damaged due to rain resulting in a loss of over Rs. 165 crore. A loss to the tune of Rs. 5 crore has been estimated to the fisheries sector.
Due to increase rains in the Pradesh the HRTC also suffered loss of Rs. 12.83 crore while total loss to health infrastructure is Rs. 1.25 crore. Total cumulative losses suffered by the State are Rs. 2767.48 crore.
The Spokesperson said that funds amounting to Rs. 129.24 crore have been released for immediate relief to the districts and different departments including Rs. 57.57 crore to Deputy Commissioners and Rs. 71.67 crore to various departments.
Public Works Department has been given Rs.30.55 crore, I&PH Rs.14.78 crore, Horticulture Rs.7.14 crore, Agriculture Rs.13.39 crore and HPSEB Rs.5.8 crore. Rs.25.09 crore have been disbursed to Deputy Commissioner, Kinnaur, Rs. 5 crore to D.C Mandi, Rs.4.95 crore to D.C Shimla, Rs.3.80 crore to D.C Kangra, Rs.2.07 crore to D.C Bilaspur, Rs.1.57 crore to D.C Hamirpur, Rs.0.71 crore to D.C Una, Rs.1.72 crore to D.C Solan, Rs. 3.75 crore to D.C Sirmour, Rs.1.30 crore to D.C Lahaul & Spiti, Rs. 3.85 crore to D.C Chamba and Rs. 3.75 crore to D.C Kullu.