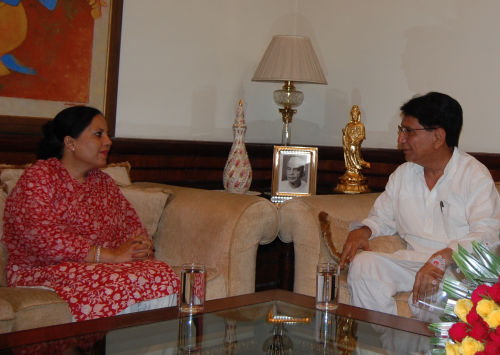 Himachal Pradesh has demanded the restoration of original runway length of Shimla airport as the length has been reduced due to soil erosion. For the restoration work state has demanded Rs 142.70 crore from the union government.
Member Parliament Pratibha Singh on Wednesday called on union civil aviation minister Ajit Singh in New Delhi to raise the issue. Pratibha Singh demanded restoration of original runway length of 4100 feet (1189 mtr, width 23 mtrs) of Shimla airport. She informed the minister that the effective length of the airport has been reduced to 3800 feet because of soil erosion.
She said that a feasibility study in this regard was conducted by IIT Roorkee and meeting in this regards had also been held with the Ministry of Civil Aviation, but no action was taken in this regard which was a matter of concern. She said that Airport Authority of India had recently engaged M/S Rites as consultant for exploring measures for restoration and widening of the airstrip of the runway as well as to prevent soil erosion. She requested the Union Minister to direct Airport Authority of India to take up restoration works at the earliest and requested him to release the funds for its restoration.
Pratibha Singh also requested the Union Minister to order the pre feasibility survey for the Kandaghat green field airport. She demanded more flights to the Shimla, Kullu and Kangra airports to meet the demands of the high end tourists and other people visiting the State.
She also demanded for introduction of Private Airlines services at all the airports in the state which could provide economical air services to the travellers who frequently visit the State.
Singh demanded central subsidy on air services in the State on the pattern of north eastern States keeping in view of the similar topography and geography and said that Himachal Pradesh also falls under the Special Category States and Centre should extend all the incentives to State which were being provided the Special Category States.
Pratibha Singh She also demanded more air strips and air services in tribal areas of the State to explore the immense tourism potential in the snow bound areas which could be developed as adventurous and heritage tourism destinations.
Ajit Singh assured her that Central Government would take positive view of her demand besides, immediate action in case of the restoration of air strip at Shimla airport would be taken up soon.