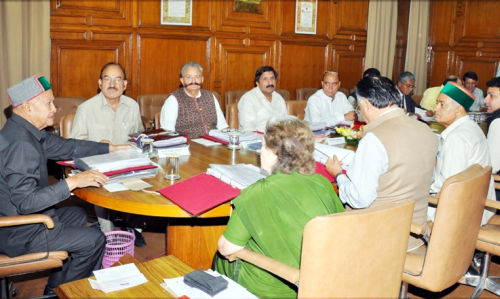 Himachal Pradesh Cabinet in its meeting, presided by Chief Minister Virbhadra Singh here today decided to provide enhanced relief to the farmers of the State in general and Kinnaur district in particular, affected by recent incessant rains, landslides, cloudburst and untimely snow by amending the existing relief norms.
Cabinet approved enhancement in Support Price of procurement of mango under the Market Intervention Scheme (MIS) for the year 2013. Support price of Seedling mangos variety would be Rs 5.50 per kg and that of Grafted variety would be Rs 6.50 per kg, which is 50 paise more than the previous year. The Cabinet also approved enhancement in support price of apple from Rs 6 to Rs 6.50 per Kg under the MIS for the year 2013.
Fulfilling Budget announcement made by the Chief Minister, the Cabinet approved regularization of the services of daily waged/contingent workers completing 7 years of continuous service as on 31st March, 2013.
Cabinet also approved framing of new 'Comprehensive Guiding Principles-2013' for regulating the transfers of officers and officials working under the State Government, Boards, Corporations and PSUs etc. with certain modifications.
The Cabinet accorded its approval for filling up of 800 vacant posts of Police Constables. This includes 600 male and 200 female constables in the State Police Department.
Keeping in view the vital duties performed by the Patwaris and to save the masses from inconvenience, the Cabinet decided to fill 778 posts of Patwaris (Mohal) in Deputy Commissioners Offices in the State.
The Cabinet also decided to fill about 450 posts of different categories on contract basis in the Health and Family Welfare Department
The Cabinet gave its approval for purchase of 125 new ambulances under Janani Shishu Suraksha Karyakram. The Cabinet also decided that these ambulances would be outsourced in view of operation efficiency and better service delivery on the analogy of National Ambulance Service 108.
Cabinet accorded its approval for simplification of norms by amending the HP Tenancy & Land Reforms Rules, 1975 for granting permission under Section 118 of HP Tenancy & Land Reforms Act, 1972 for providing land for industrial purpose in the State. This decision would fulfill the commitment of the present State Government to provide all approvals required from various departments for setting up industrial units in the State within a period of 90 days.
The Cabinet decided to open sub tehsil at Ispur in district Una.
The Cabinet accorded its approval to establish Indian Institute of Information Technology (IIIT) in Una district in Public Private Partnership (PPP). HP Power Corporation Ltd., HP Power Transmission Ltd and Rolta India Ltd. would be associated for proportionate contribution of funds by each industry partner to set up IIIT. The Cabinet gave its approval to open new ITIs at Dargi and Jalog, in tehsil Sunni of Shimla district from current academic session.
The Cabinet decided to provide medical reimbursement to the children of retired Government Employees on the same basis as those of the serving employees, keeping in view the exorbitant cost of life threatening diseases.
In order to encourage opening of new hotels and tourist facilities in the backward panchayats of the State, the Cabinet gave its approval to exempt luxury tax in these panchayats under the HP Tax on Luxuries (in Hotels and Lodging Houses) Act, 1979 for a period of 10 years from the date the hotel starts functioning. Approval was also accorded to amend certain provisions of HP Tax on Luxuries (in Hotels and Lodging Houses) Act, 1979 and HP Tax on Luxuries (in Hotels and Lodging Houses) Rules, 1979. For ensuring early registration of new dealers approval was accorded to abolish registration fee under the HP VAT Act, CST Act, Passenger & Goods Tax Act and Luxury Tax Act. These decisions have fulfilled the announcement made by the Chief Minister while presenting Budget for the year 2013-14.
The Cabinet gave its approval for implementation of proposal of State Experts Committee which met on 29th March, 2013, regarding removal of pay anomalies arisen due to revision of pay structure/grade pays in respect of State Government employees. This would benefit various categories of Class-IV employees of the Government.
In order to strengthen De-adiction Centers at district level, the Cabinet gave its approval to hire 12 Clinical Psychologists as Counselors and 12 Medical Social Workers on contract basis.
The Cabinet approved creation of 11 posts which includes four Medical Officers, six Staff Nurses and one post Operation Theatre Assistant for Civil Hospital Nurpur.
Cabinet gave its approval for the purchase of laptops and printers for 1185 Gram Panchayats through HP Electronics Development Corporation.
The Cabinet also gave its approval for placing the 26th Annual Report of Himachal Pradesh Lokayukta for the year 2012 in the ensuing session of State Vidhan Sabha.
The Cabinet also approved creation of one post of Civil Judge (Sr. Division) in High Court of HP under e-Court Project as per recommendation of the e-Committee of Hon'ble Supreme Court of India.
Cabinet gave its approval for creation of 5 new posts of Clerks in the Officer of Advocate General, Himachal Pradesh through direct recruitment by HP Subordinate Selection Board in the pay band of Rs 5910-20200 plus grade pay of Rs 1900.
Cabinet approved Revised Guidelines for allocation of Post Commissioning Funds generated from One per cent Additional Free Power on account of Local Area Development Fund (LADF) of Hydro Electric Projects (HEP) in the State. Now, out of the total amount received against sale of One per cent additional free power on account of LADF, 50 per cent would be divided to all families in Project Affected Areas equally subject to BPL families who would get higher amount as per policy notified earlier, while balance 50 per cent of the total amount would be divided between the families in ratio of the land acquired in their respective Panchayat, subject to BPL families would again get higher amount.
The Cabinet granted extension to M/s Harza Engineering Company executing 70 MW Dhamwari Sunda HEP for the period of 12 months as special extension with an extension fee of Rs 20,000 per MW. The Cabinet gave its consent to allot Mooling (1MW) Small Hydro Electric Project (SHEP) in Lahaul & Spiti district to M/S Lahaul Valley Hydro Power Co-op Society, Lahaul-Spiti.
The Cabinet accorded approval for charging Capacity Addition Charges from Tindi, Rana, Siander, Parari and Makkan SHEPs as their power generation had increased after change in Location/Elevation.
The Cabinet gave its consent for enhancing the Authorized Share Capital of Himachal Pradesh Electricity Power Transmission Corporation Ltd. from Rs 150 crore to Rs 200 crore.
The Cabinet cancelled the allotment of Khauli-II Hydro Electric Project allotted to Himachal Pradesh State Electricity Board Ltd (HPSEBL) and allowed the allotment of this Project based on direct bidding as per Hydro Power Policy, 2006; subject to condition that allottee would reimburse the expanses already incurred by HPSEBL in survey and investigation of the Project.
The Cabinet decided to ask the successful bidders to deposit Project Development Success Fee as per provisions of Request for Proposal (RFP) Document for construction of Bhuntar-Bijli Mahadev and Palchan-Rohtang ropeways. The Cabinet also gave its approval for allowing the bidder for incorporating one more company in the joint venture as a consortium partner in Palchan to Rohtang Ropeway project.
The cabinet gave its approval for leving 4 per cent VAT on sales of goods through Canteen Store Department (CSD) Canteens.
With a view to simply the procedure and providing relief to general public and dependents of the deceased Govt. Servants, the Cabinet gave its nod to amend the Business of the Government of Himachal Pradesh (Allocation) Rules, 1971.
Cabinet gave its consent to allow Himachal Pradesh State Cooperative Marketing and Consumers Federation Ltd (HIMFED) to raise working Capital Loan of Rs 25 crore from National Cooperative Development Corporation (NCDC) through the State Government.
Cabinet gave its consent to purchase school uniform for boys and girls from class 1st to 10th of HP Government Schools under Mahatma Gandhi Vardi Yojana to provide free uniform to these students.
Cabinet approved Himachal Pradesh Municipal (Amendment) Ordinance, 2013 and Himachal Pradesh Municipal Corporation (Amendment) Ordinance, 2013 to restore old system of indirect elections to the office of President & Vice Presidents of Municipal Councils/Nagar Panchayats and for the post of Mayor and Deputy Mayor in Municipal Corporation Shimla.