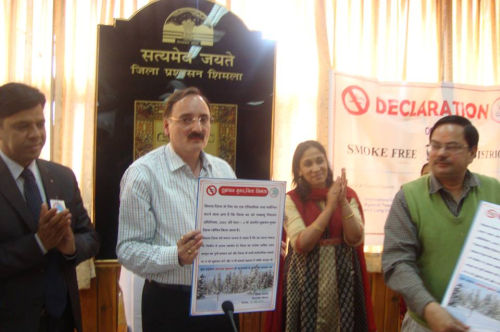 Shimla district was declared as smoke-free under the Tobacco Control Act of 2003. Announcing the state capital of Himachal Pradesh as "smoke free" at a function organised here by HP Voluntary Health Association and district administration, Deputy Commissioner Dinesh Malhotra said a survey was conducted on scientific methodology by IGMC Shimla on five indicators and the report by the agency indicated 92.17 per cent compliance of these indicators. The compliance was 89.64 per cent in rural areas and 96.65 per cent in urban areas.
Medical Superintendent, IGMC hospital Shimla, Dr. Ramesh said the compliance report of the survey was based on findings on active smoking in public and work places, availability of ash trays and lighters, butts of cigarettes, smell of cigarettes smoking and warning Signage.
Sriniwas Joshi of HPVHA stressed for the need for the more awareness among college and university- going students as reports revealed that 16 per cent in the age group of 15 to 17 years and 21 per cent in the age group 18 to 19 were smokers in Himachal Pradesh.