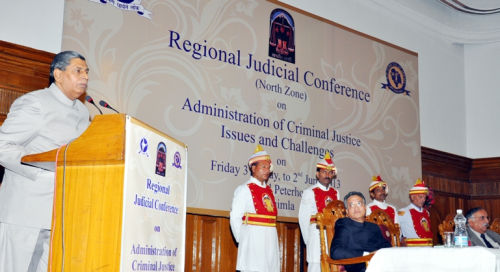 Supreme Court Judge, Justice BS Chauhan has underlined the need to carry out appropriate changes in the entire system around the administration of criminal justice in view of the rapid scientific development that had taken place in all the spheres of human activity.
In a three-day regional conference on "Administration of criminal justice: Issues and challenges" organised by the State Judicial Academy in collaboration with the National Judicial Academy, Bhopal, at Shimla, Justice Chauhan emphasized on the need for changes at all the levels, right from the police to the judicial system. He asked judicial officials to adopt innovative approach to deal with situations that arose from time to time so that justice was delivered in the right way.
Chief Justice, HP High Court Justice AM Khanwilkar said that the criminal justice depends on chain of benefactors from the police, forensic experts, advocates, public prosecutors, witnesses and the courts. Each of these benefactors is important and every part of the chain is to be improved and strengthened.
Justice Khanwilkar added that Judges had a pivotal role in the administration of criminal justice and they should not be silent spectators, but at the same time they should not give an impression of being proactive, judgemental or opinionated before the trial concluded.
Earlier Justice DD Sud welcomed judicial officials and Dr Balram Gupta, director, National Judicial Academy.