Tindi/Udaipur: Hundreds of Villagers from Village Salgram, Kurched, Bhujond and Tindi swooped down on Tindi village early on Sunday morning and passed a resolution by a majority to not give 'NOC' to 400 MW Sheli Project Company and 400 MW Raholi Project.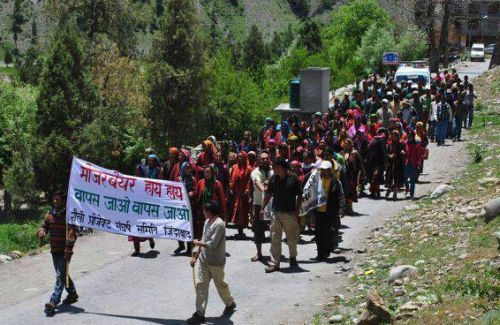 The Local Villagers at Gram Sabha feared that about 2 lakh green trees will cut down only in Sheli Project although Government submitted a figure of 60,000 trees before the Ministry of Environment and Forest (MoEF) which is not correct according to villagers.
"The Lahaul Spiti district is having limited forest cover and the forest is one of the major sources of livelihood for the local villagers and this project is Disaster for District Lahaul Spiti," Said Dhayan Singh Thakur, Former TAC Member & Vice Chairman Lahaul Spiti Zila Parishad.
Surinder Deol, noted social Activist and senior member of Sheli Project Sangharsh Samiti (SPSS) said, "No one, however, seems bothered about the Chenab River. The Himachal Pradesh government had suggested to the MoEF that the condition of cumulative impact assessments for projects on the Chenab should be lifted as "As many as 28 hydroelectric projects of combined generation capacity of 5,800 MW are at an advanced stage of obtaining (environment ministry) clearance.
"All these projects are located on the Chenab, but widespread resentment is growing against the government for allotment of big projects to big corporates in Lahaul Spiti bypassing Forest Right Act and PESA Act and violating all constitutional laws safeguarding Tribals of this country.
Puran Chand Former Up-Pradhan Tindi Panchayat blamed the Company and Government were suppressing the agitation of poor villagers by pressurizing and luring local political leaders. They alleged that the Govt and Companies were forcefully acquiring their land and forest for the project.
The HP government renewed the Forest Right Act without the approval of the Ministry of Tribal Affairs, Govt. of India for which the Union Tribal Minister has written a strongly worded letter to the Chief Minister of HP. Though officials of Private Company claimed they faced no resistance from villagers, anti-Project protesters Bir Singh Thakur of Koraki Village narrated a different story. "If the government and company is happy making such claims, let it be. Our agitation will continue. We will not allow Project to cut down thousands of green trees to happen here.
"There are many larger issues involved with the project, but our immediate concern is the protection of our livelihood Environment and ecology," said Sudershan Thakur, Convener of SPSS that has been spearheading the agitation since in 2011. He added that Samiti also raised this issue with the President of India, the Governor of Himachal Pradesh and Chief Minister of H.P. and hundreds of representatives to Members of FAC of MOEF and plead for the cumulative assessment of Chenab River. He said that without cumulative assessment no Forest Clearance should be given to any project on Chenab River.
He blamed Govt for surpassing the law and has initiated Land Acquisition proceedings without `NOC' from the Gram Sabha of concerned Panchayats. Thakur blamed
"We suspect the government is acting under pressure for the benefit of the private Hydel Project company and is in a hurry to begin works before the new land acquisition bill is taken up by the Parliament, which mandates consent of nearly 80% of people in a village before acquiring their land for any project."
Sheli Project Sangharsh Samiti vowed to take it to the conclusion and in this process, they are now getting support from various Mahila Mandals, Yuvak Mandals from district Lahaul Spiti and political parties including Trinamool Congress, CPM and CPM.