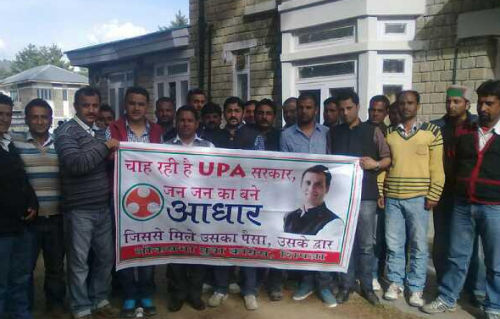 Himachal Pradesh Youth Congress Shimla parliamentary started campaign to propagate the need of unique identification card (Aadhar Card) from Theog city. They later visited Kotkhai, Jubbal and Rohru region of the district. Youth Congress leaders said that this unique identification card (UID) will help all section of the society. They said UID will be a great tool for national security as it can reduce the current problems of illegal immigrants. This ID will help to identify temporary and permanent citizens of India apart from the illegal immigrants.
Youth Congress leaders said that Aadhar Card will be a help for the citizen identity, benefits and will ensure universality. They said that this ID can be used to identify the individual in any part of the country, so even if a person travels, this card will be sufficient to establish or verify his identity. Youth leader added that it'll also help to curve the corruption as it can help to check the fake ration card and other related problem like subsidy and will also help in minimizing the corruption in PDS (Public Distribution System).
They said that UID will also empower weaker sections of the society as they claim that the poor didn't have any identity proofs and so was prevented from availing services such as bank accounts, ration cards etc.
Youth Congress leaders of Shimla parliamentary said Aadhar card will also enable to get the benefits of e-governance as Aadhar card will facilitate digital interaction between a government and citizens (G2C), government and businesses (G2B), and between government agencies (G2G).
In this campaign, Himachal Pradesh Youth Congress Gen Sec Mohender Thakur, Shimla IYC President Manish Thakur, Theog Presidnt Ujwal Mehta, Jubbal-Kotkhai Presdnt Vikram Kanwar, Youth Congress leader Vinay Hetta, Vikas Kalta, Rohru president Vijay chauhan and other youth leaders take part.