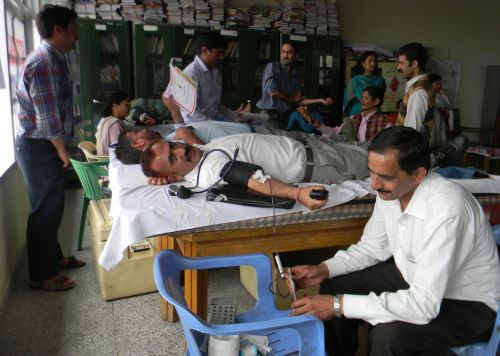 Shimla based NGO, Ashadeep organised voluntary blood donation camp at Directorate of Education, Shimla, where about 55 people donated blood. The camp was supported by Directorate of Higher and Elementary Education.
The blood donation camp was inaugurated by Department of Higher Education, Director, Dinkar Burathoki by lighting the lamp. Staff of both Higher and Elementary Education came forward to donate blood at the camp.
Lauding the contribution of the Ashadeep for the common wellbeing of the society at large, he said that it was the first time in the history of the Directorate of Education a voluntary blood donation camp was organized.
He disclosed that under the mandate of the NSS a blood grouping of all the students of eleventh and twelfth would be started in the schools. This would enable in creating awareness to the young students of their blood group as well as create a data base of blood groups. The camp supported by Directorate of Higher and Elementary Education was held with the assistance of team from blood bank, Deen Dayal Upadhaya Hospital, Shimla.
Ashadeep President, Sushil Tanwar said,
"This was second blood donation camp organized in succession in three days, earlier one was organized at Arki, Solan district last Sunday. These camps were conducted on the call of State blood Bank DDU Hospital in view of shortage of blood"
He said that there is no better service to the society than a blood donation, where it saves many a lives associated with it.
Those among who donated blood include Directorate of Higher Education, Joint Director, Shashi Bhushan Shekri who donated blood 50th time, Jaya Sharma 58th time, Nageshwar 15th times, Hem Lata 7th time. 55 year old Sundla Devi was amongst those who donated blood for the first time.